Send a link to a friend Share
January, 2020
---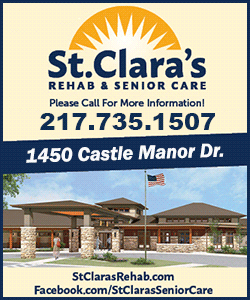 Tuesday, January 28
Blood pressure screenings
HOSTED BY: Abraham Lincoln Memorial Hospital
WHO: Public
DETAILS: Free blood pressure screenings are available every Tuesday.
WHERE: Wombacher Room at ALMH, 200 Stahlhut Drive
WHEN: 9 a.m. to noon
Lincoln Kiwanis
HOSTED BY: Lincoln Kiwanis
WHO: Members and prospective members
DETAILS: Kiwanis is a service organization working to serve the children of the world.
WHERE: Whiskers at the Elks County Club
WHEN: Noon
Tuesday Night Bingo at the Oasis
HOSTED BY: Oasis Senior Center
WHO: Public (membership not required)
DETAILS: Come early for dinner then enjoy an evening of Bingo. We will offer large jackpots and a great atmosphere!
WHERE: Oasis Senior Center, 2810 Woodlawn Road, Lincoln
WHEN: 5 p.m. Dinner service; 6:30 p.m. Bingo
Logan County Herb Guild meeting
HOSTED BY: Logan County Herb Guild
WHO: Members and guests
DETAILS: Share your ideas for 2020 programs, Herb of Month speakers & Hostesses.
Bring a cup for tea, a snack to share, and your thinking caps for a great year of learning, fun & fellowship
WHERE: Faith Lutheran Church, 2320 North Kickapoo St. Lincoln
WHEN: 6:30 p.m.
Wednesday, January 29
Breastfeeding support group
HOSTED BY: Abraham Lincoln Memorial Hospital
WHO: New mothers
DETAILS: Breastfeeding support group meets weekly. Participants weigh their babies and have an opportunity to share stories and ask questions of a certified lactation consultant. Bring your lunch.
WHERE: Steinfort B at ALMH, 200 Stahlhut Drive
WHEN: Noon to 1:30 p.m.
Lincoln Rotary Club meeting
HOSTED BY: Lincoln Rotary Club
WHO: Rotary members
DETAILS: Weekly meeting
WHERE: Meyer-Evans Student Center, Lincoln College
WHEN: Noon
Thursday, January 30


Friday, January 31