The Saturday, July 17, Backyard Barbeque Contest was one activity at Emden's 150th Anniversary celebration. Three teams participated and prepared ribs and chicken with their own special blend of spices and ribs, then put them in a smoker to cook low and slow.

After judges had a chance to sample what each team prepared, points were awarded for appearance, tenderness/texture and taste.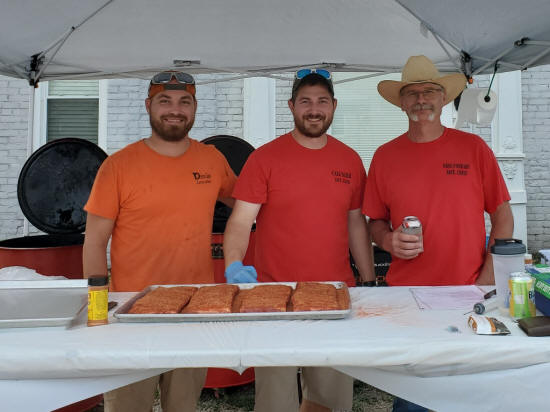 First place winner for the Backyard BBQ was Dahm Good BBQ with Alex Dahm, Cale Dahm and Greg Conrady.

Coming in second place was Sugar Creek BBQ with Dave, Dustin and Makenna Eyrse.

In third place was the Smoke Show with Corey Farmer and Gary Rademaker.
Photo by Angela Reiners (Click on image to enlarge)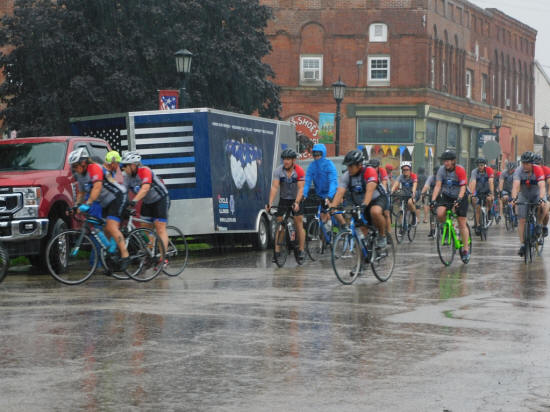 The Illinois Concerns of Police Survivors group peddled their way into Atlanta Friday morning in the pouring rain. The group travels through Logan County each summer as they journey Route 66 from south to north, ending in Chicago on Sunday.

The group enjoyed shelter and a hot meal courtesy of the Atlanta Fire Protection District and Eminence Church of rural Atlanta.

The ICOPS mission is to raise awareness and funding for a program that supports families in crisis when a police officer in Illinois experiences their "end of watch" in the line of duty.
Photo by Nila Smith (Click on image to enlarge)