Elkhart park dedicated to honor Nancy Jane Ingram Moore



Send a link to a friend Share
The story was told and retold in various ways: Some people in this life go unnoticed. In a room full of people most often it is the children who are not noticed. Not so if Nancy Jane (Moore) was there. She gravitated to the children and they to her. That's just how she was. She loved children. She was always looking out for their needs and for their happiness.

Nancy Jane Moore was the influence behind developing a park adjacent to the old high school with trees. It has an ample pavilion and playground equipment for children to play, get fresh air and exercise.

Late last year at age 67, Moore fell ill, not of covid but its restrictions kept family and friends from seeing her and supporting one another, and sadly she passed away on February 2, 2021.

On Saturday, June 5, friends and family gathered as the Village of Elkhart dedicated the park in her name. The morning also served as a memorial time.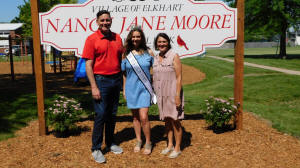 Special guests included State Representative Tim Butler, reigning Logan County Fair Queen Faith Doerr of Elkhart and State Senator Sally Turner.

Moore served as a village of Elkhart trustee since 2008.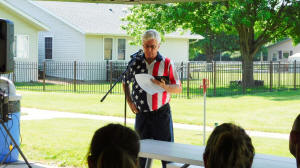 Elkhart Mayor Lyle Fout recalled with humor a few of the phone calls he received from Moore when he took office regarding community matters and what should be done. The first call came at a late hour was about a broken water main downtown and Nancy Jane pressed him on what he needed to do. As it turned out it was bogus, and she said it was just to get him used to the responsibilities of being mayor, at all hours of the day.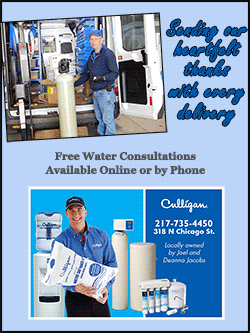 Fout tried, but said he never got her back on that prank.

It was noted that Nancy Jane spoke up for the things she believed in, which more recently included new and better playground equipment for the park. Mayor Fout said budget restrictions did not allow for the equipment purchase at the time, but he committed that the playground equipment she wanted would be purchased and added to the park in the near future.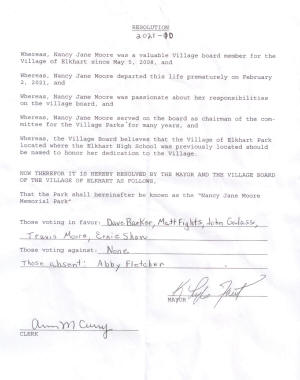 The Elkhart Board passed a resolution and had a beautiful new sign erected at the park entry dedicating it in Moore's name. link to village resolution here?

Senator Turner held Moore in high regard. She read the resolution passed by the Illinois State Senate and House of Representatives.
State resolution - Pdf

Mona Moss took charge of selecting a suitable tree to plant in Moore's honor and the park was chosen as the site. Moss said a swamp white oak had been selected and planted earlier this year. The oak is known to live 300 years and get to 50 or 60 feet tall and will fit in well with the other trees that are there. It is a full life circle tree that will feed wild life, benefit today's families and children, and future generations.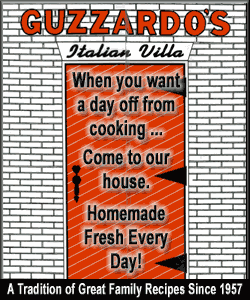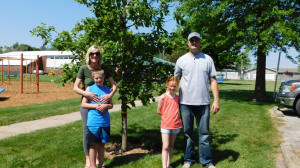 Moore's son Travis, wife Sarah and their children in the shade of the swamp white oak.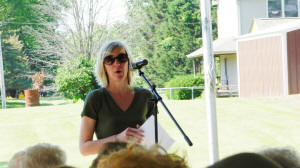 Daughter-in-law Sarah (Travis) Moore said Nancy Jane was not only a wonderful mother-in-law, but a best friend to her from the time she entered the family. She was overwhelmed to see how much Nancy Jane meant to the community, and thanked the community for their recognitions and all that has been done in her name.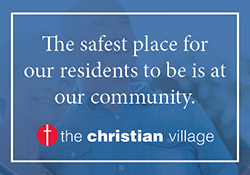 One table was filled with Nancy Jane's classmates. She was their Homecoming Queen in 1971.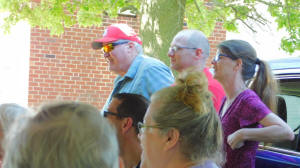 Nancy Jane's husband of 48 years, Terry Moore (in the ball cap,) thanked everyone who spoke or were part of contributing to the park, and those who came to the dedication.

Elkhart Methodist Church Pastor Steve Lobb consecrated the day with prayer.

[Jan Youngquist]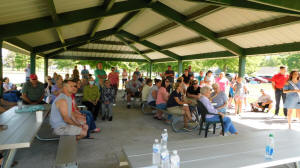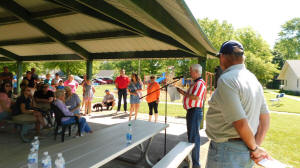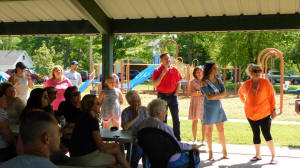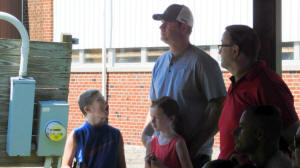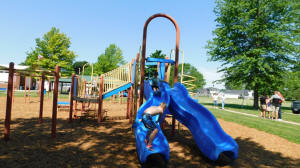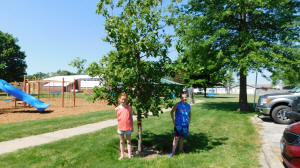 Nancy Jane Ingram Moore obituary