The Lincoln IGA is closed today and until further notice due to a fire that occurred early in the morning hours today. According to Fire Chief Bob Dunovsky, the report came from a motorist at approximately 3:55 a.m. that a fire had been spotted in the store. Lincoln city, Lincoln Rural and Atlanta fire stations responded. After daylight with the fire extinguished, it is obvious the damage is quite extensive in the front end of the building.

Also at the time photos were taken, officials were waiting for the all clear to enter the building and begin investigating the source of the fire. Social media is reporting a couple of different scenarios as to the cause of the fire, but nothing has been confirmed by authorities.
Photos by Karen Hargis [Click to enlarge]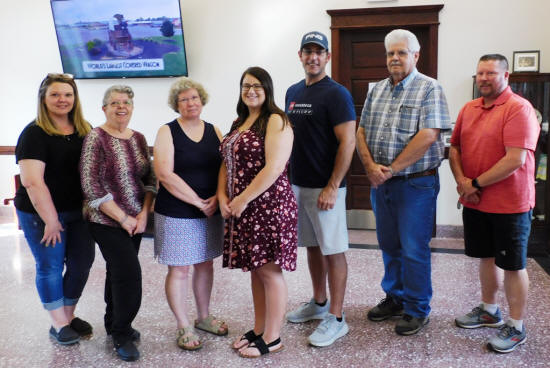 On Thursday evening, the Logan County Tourism Bureau Board bade a fond farewell to Executive Director Morgan Gleason. Gleason has resigned from her position and will be relocating out of the county.

The bureau will be conducting a search for a new director. Anyone interested in the position may find information on the Business page at the bottom in Classifieds: Employment section of Lincoln Daily News.
Left to right: Kathie Williams, Nila Smith, Melanie Blankenship, Gleason, Steve Parrott, Jim Wessbecher and Tracy Welch.

Gail Apel-Sasse, Emily Davenport, Neal Patel and Marilyn Wheat were unable to attend.

Photo by Cindy Smith, Logan County tourism Bureau (Click on image to enlarge)