TODAY AT THE FAIR

4-H Beef Show, 4-H & Dept. H Jr. Sheep Show, Dept. F Sheep PeeWee Showmanship and Costume Show

10:00 a.m. - Kid's Day Kid's Way
4:30 p.m. - Garden Tractor Pulls
5:30 p.m. - Tinsley's Amusement Carnival Rides Open
6:00 p.m. - Tractor Pulls
Photo art by LDN Staff [Click on image for larger version]

---
The new 2022 Logan County Fair royalty hit the ground running on Wednesday morning. After being crowned Tuesday evening at the fair, Miss Logan County Fair Queen Emma Stoltzenburg, Junior Miss Isabella Pollice and Little Miss Luci Bobell attended the 4-H swine shows early on Wednesday. They were then spotted in other fairground locations, such as the Department O Dairy and Culinary judging.

In today's edition, LDN has additional photo coverage from the Tuesday night pageant, be sure to check it out.

Photo by Karen Hargis and Nila Smith [Click on image for larger version]

---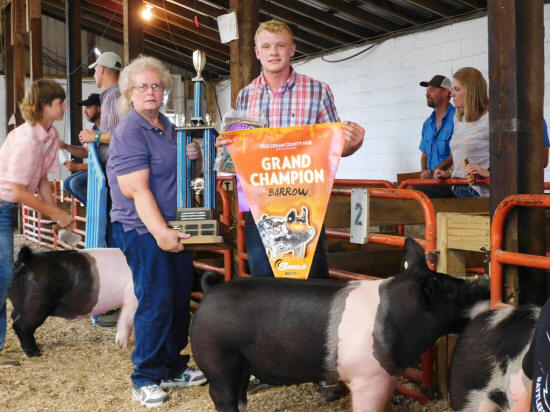 Congratulations to Clay Aylesworth, the 2022 4-H Barrow Show Grand Champion.

According to Carissa Davis of the Logan County Extension, the swine show is the largest 4-H show for 2022. With Gilt and Barrow competitions in the various breed and weight classes, the youth were in the show ring for the entire morning, gradually narrowing the field by breed until a Champion Gilt and Barrow were chosen.

LDN will have complete coverage from the swine show in its Friday edition.
Photo by Nila Smith [Click on image for larger version]

---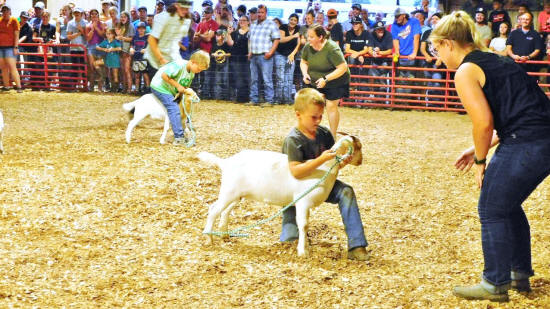 With three twists and the shake of some tails, Scrambles and 4-H Night went forward on Wednesday evening at the Logan County Fair.
1) Chickens were substituted for an egg game due to the threat of avian flu for the youngest contestants.
2) The event was moved to the Show Barn rather than being held on the track in front of the grandstand due to the threat of severe weather.
3) For crowd safety the calf scramble was scrapped and contestants were interviewed for knowledge of caring for the animal with winners taking a calf home to raise for a year and return for competition next year.

Before a large audience two events pursued as normal, eight and nine-year-old boys and girls attempted to subdue and halter a goat. Also, greased pigs supplied the usual squeals and entertainment as 10 to 14 year-olds exercised savvy strategies to get them to a pen.

More on the 4-H Night and photos later this week.
Photo by Jan Youngquist [Click on image for larger version]