---
---
Submit letter to editor online
---
Contact us
---
LDN is best viewed with
Internet Explorer 5.0 or 6.
---
LDN awards
Local:
Dec. 16, 2001
Local Emergency Planning Committee
Jan. 25, 2001
Logan County Healthy Communities Partnership
State:
Oct. 1, 2001
Illinois Public Health Association
posted daily OVER THE NOON HOUR (CDT)

=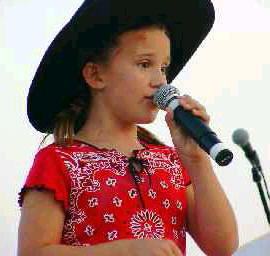 Logan County singing and dancing talent lit up the fair stage Wednesday evening. Click on picture for larger image.

[Pictures by Bob Frank].





Newly crowned Queen Katheryne calls fair 'home'

City hears proposals for better police coverage and temporary street closures

Local sewer and water projects contained in House-passed bill

Harness racing set to begin Thursday at Logan County Fair

4-H Cat Show

4-H Poultry Show

4-H Visual Arts Show

4-H Miscellaneous Show

Book Look: 'The Probable Future'

Oasis update
LDNs of the past week: