New technology at ALMH helps in fight against osteoporosis
Send a link to a friend
[NOV. 12, 2003] Abraham Lincoln Memorial Hospital recently installed a new tool to evaluate bone loss. Radiology technologists at ALMH are now using a Prodigy™ bone densitometer to perform DEXA scans, using Dual Energy X-ray Absorptiometry. These simple diagnostic tests measure the density of the spine, hip and other bones, which are the most frequent sites of a fracture.
"Until now, evaluating bone density using conventional X-ray systems did not reveal a potential problem until a patient had lost 25-30 percent of his or her bone density," explained Darla Ludolph, manager of the Radiology Department at ALMH. "Now, in just 30 seconds, this highly sensitive densitometer helps us identify risk at a much earlier stage. It can also evaluate response to treatment so that we know whether our therapy is effective or if we need to modify our approach."
Dr. Maria Laya, a physician at Family Medical Center in Lincoln, encourages individuals to visit their physician and be evaluated for a bone density examination. "There is no special preparation involved for the patient, the exam is very brief, and is a very comfortable procedure for the patient," she said.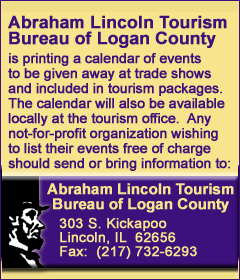 "Fortunately," Dr. Laya said, "recent research findings clarify the nature of the disease, and demonstrate the effectiveness of new treatments. New diagnostic devices, such as the Prodigy bone densitometer, improve the early detection and treatment of osteoporosis."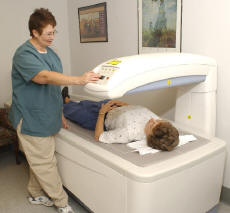 Darla Ludolph, manager of radiology at ALMH, performs a DEXA scan used to evaluate bone density.
Twenty-five million Americans have osteoporosis. Fifty thousand people die each year because of it. Yet, most of us know little about protecting ourselves from this disease. Using a bone densitometer, physicians can measure patient bone density and follow it over time. If the patient's bone density is low, or decreases at an abnormally fast rate, the patient may be at risk for osteoporosis. Through diet, exercise habits and medication, further deterioration of bone can be prevented.
For more information regarding osteoporosis, risk factors and bone density measurement, contact the ALMH Radiology Department at (217) 732-2161, ext. 160, or e-mail xrays@almh.org.
[ALMH news release]