Lincoln Bible Church welcomes new minister
Send a link to a friend [AUG. 22, 2005] Ron Denlinger officially joined the Lincoln Bible Church pastoral staff, effective Aug. 1. He and Don Hoover will serve together in pastoral team leadership. Hoover, who founded the church 16 years ago, will continue as senior pastor. Denlinger is taking the role of administrative pastor. The two pastors will share equally in the Sunday morning preaching.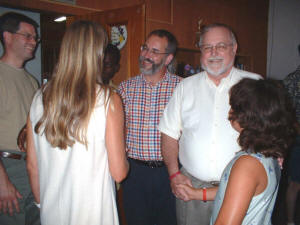 Greeting worshippers are new minister Ronald Denlinger (left) and Don Hoover (right), now team ministering at Lincoln Bible Church.
[click on picture for larger image].
Both Hoover and Denlinger feel strongly about the value of team ministry. Although this principle is often overlooked in smaller church contexts, they are convinced it results in greater ministry effectiveness. They see Ecclesiastes 4:9-12 as a key biblical text for this strategy: "Two are better than one, because they have a good return for their work…"
Denlinger has 18 years of ministry experience. Following graduation from Lancaster Bible College, he served as a youth pastor in his home church -- Paradise Mennonite Church. He planted two churches: Lebanon Bible Church in Lebanon, Conn., and Community Bible Fellowship Church in Red Hill, Pa. A few years ago, Denlinger assisted in a team ministry in a small rural Baptist church in Pownal, Vt.
Over the past five years the Denlingers have had a unique ministry to field staff for the Rural Home Missionary Association. They've traveled to each of the small-town fields of association, encouraging and counseling pastors in their ministries. The Denlingers' only house was a 31-foot motor home. That changed a few months ago when they purchased a home in Lincoln. Though they are now settled into a permanent dwelling, they will continue to travel a few months each year in their continuing part-time responsibilities with the Rural Home Missionary Association.
Ron and his wife, Joan, have two children: daughter Kari, 18, and son Jeremy, 11. Kari is severely disabled, from birth, with an undiscovered underlying diagnosis. Ron and Joan see her as an integral part of their life and ministry.
In March of 2002 the Denlingers co-authored a book about being a family with a disabled child. They entitled it "Joy in a Foreign Land: How a family can stay together when their world is coming apart." Through this self-published book and several speaking engagements, they've had a ministry of encouragement to many families.
[News release]