"Long cold periods with drying winds can help dehydrate the new plants," said James Schuster. "Plants in newly built subdivisions are even more prone to being dehydrated through the winter than those planted in neighborhoods with many mature plants. Since evergreens, both needle and broadleaf, maintain live foliage through the winter, the foliage continues to lose moisture even when frozen. If the water loss is too great, the needles or leaves will turn brown as they dehydrate and die."

To prevent this, Schuster recommended a number of things.

"First, make sure there is plenty of soil moisture before the ground freezes," he said. "If there has not been sufficient rain, water them. Water the planting hole as well as a couple of feet of the surrounding soil. Avoid overwatering. Overwatering can drown tree roots adding to winter kill. Water till the soil is moist at least 12 inches deep."

Another recommendation is to consider applying an anti-desiccant/anti-transpirant. It is important to read the product's label.
"Use the winter label rate at the recommended temperature," said Schuster. "These products vary in their longevity and effectiveness on the plants. Usually a second and sometimes a third application later in the winter are required. These products, when applied correctly, can sometimes make the difference on plant survival as well as appearance the following spring."
[to top of second column in this article]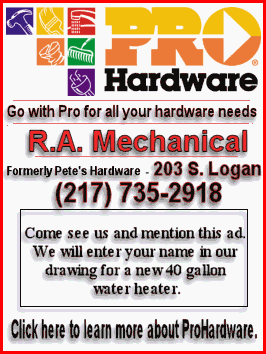 A screen that partially blocks the wind is another way to reduce dehydration.
"Use sturdy stakes that are a couple of feet longer than the plant is high," he said. "Place the stakes in the ground before the ground begins to freeze. How many stakes you use depends on whether you want a 'V'-shaped screen or a flat screen as well as how many evergreens were planted.
"Once the ground begins to freeze, nail, staple, or tie a material like burlap, a cheesecloth-like material made out of nylon or other polyester, or even snow fencing to the stakes. If using the 'V'-shaped screen around an individual plant, the bottom of the 'V' stake is directly west of the plant. The other two stakes are to the southeast and to the northeast. Make sure that the sides of the 'V' extend beyond the plant. The entire east side of the plant is left open."
Schuster said the plant should not be wrapped entirely with protective material.
"The barrier is to reduce the flow of wind through and around the evergreen," he said. "It is not supposed to stop the wind entirely. You need to make sure light reaches all of the plant, therefore do not situate the screen so the plant is supporting the screen or that it even touches the plant."
Source: James Schuster, Extension Educator, Horticulture, schuster@uiuc.edu
[University of Illinois news release]