Logan County 'yields well'
2004 crop yields

Send a link to a friend
Provided by John Fulton
[FEB. 17, 2005] As anticipated, Logan County fared very well in 2004 with the corn yield released by the Agricultural Statistics Service. The Logan County corn yield was established at 188 bushels per acre. This figure was just shy of the record corn yield established in 2003 with 189 bushels per acre. The Logan County 10-year average for corn yields is 157.4 bushels per acre (1995-2004). The top-yielding corn counties in the state were Morgan County at 200, McDonnough County at 198, then Adams and Scott counties at 195, and Cass and Knox counties at 194 bushels per acre.
Soybean yields leaped from 2003 levels, with a 2004 Logan County average of 56 bushels per acre. The 2003 average yield was 40 bushels per acre. The 56-bushel average eclipses the prior record from the 2002 crop of 52 bushels per acre and was good enough to tie Logan County for second-highest yield average in the state. The Logan County 10-year soybean yield average is 47.6 bushels per acre. The top-yielding county in the state for soybeans was Carroll County at 57 bushels per acre. Carroll was followed by several counties with 56-bushel bean yields: Logan, Edgar, Knox, Stark and Warren.

The Logan County wheat yield was established at 79 bushels per acre. The record wheat yield was established in 2003 at 93 bushels per acre, for the fourth-highest yield in the state. The top county for wheat yield was Livingston County, with a yield of 83 bushels per acre. Following Livingston were Woodford at 82, Iroquois and Kankakee at 80, and Logan at 79. The average wheat yield over the past 10 years is 68.6 bushels per acre.

[to top of second column in this article]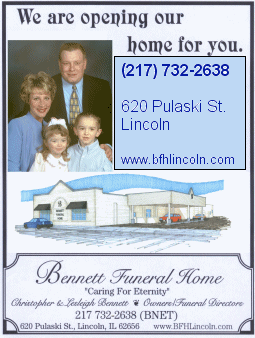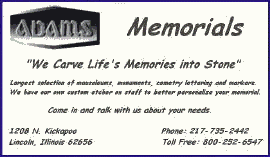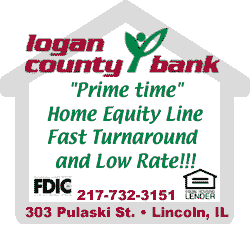 In total bushels, the top-producing counties were McLean County for corn, producing 61,771,500 bushels, and Livingston County for soybeans, producing 14,882,400 bushels. Logan County production was 35,156,000 bushels of corn and 8,248,800 bushels of soybeans. The Logan County production of wheat was 94,800 bushels.
Following is a table of Logan and surrounding counties, with 2004 yields in bushels per acre:
| | | | |
| --- | --- | --- | --- |
| County | Corn | Soybeans | Wheat |
| Logan | 188 | 56 | 79 |
| Sangamon | 192 | 54 | 56 |
| Menard | 191 | 52 | 78 |
| Mason | 179 | 49 | 66 |
| Tazewell | 187 | 54 | 72 |
| McLean | 185 | 54 | 75 |
| DeWitt | 181 | 54 | -- |
| Macon | 191 | 55 | -- |
| (State average) | 180 | 50.5 | 59 |
[John Fulton, unit leader, University of Illinois Extension, Logan County Unit]