Weather plays havoc indoors and out
Keeps emergency workers hopping

Send a link to a friend
[JAN. 14, 2005] Following the weather events of Wednesday and Thursday, central Illinois residents may be thinking that Mother Nature picked up the wrong book, or maybe she was tired of the same old recipes for winter weather. The wide diversity of weather has compounded the usual winter circumstances.
Residents, motorists and rescuers found themselves gripped in all manner of weather-related challenges Thursday. The warm, moisture-laden air mass that enveloped the area Wednesday was shoved noisily out of the way during the night. One to 3 inches of rain accompanied the heavy lightning and thunder.

Saturated fields became lakes, creeks and rivers swelled, running over roads. Roofs leaked and basements flooded.

As if that wasn't enough to keep everyone busy, sleet coated the area Thursday morning, making an icy base.

Just one more ingredient was added to make a complex recipe that would challenge first responders and public works the rest of the day. Sleet changed to snow, and a heavy layer soon covered the area. Rapidly dropping temperatures made sheets of ice that continue to be covered with blowing snow.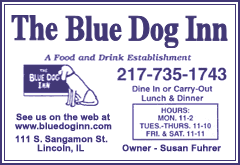 Crews couldn't set "road closed" signs out fast enough. Plows plowed. Rescuers didn't stop watching floodwaters, preparing for evacuations, checking cars off the road all day. It was a busy day.
Numerous service companies were out in the inclement weather. Heavy rains and lightning affected some telephone and power services.
Rescuers were put on standby with boats ready to launch Thursday. One rescue call was issued early Thursday afternoon at Lawndale. A nearly full propane tank began floating lose in floodwaters. Workers bravely went out and secured it with ropes.
As conditions worsened, responders were forced to do a quick assessment of the many situations and move on to the next. Numerous vehicles slid off roads and highways. Officers checked for injuries and saw if the vehicle was still able to run and had enough gasoline to keep the occupants warm until a tow could attend to them. The wait for service became lengthy.
There was added concern for rising water in ditches where some vehicles were stuck. One overanxious motorist overinflated her plight. She said the water was up to the bottom of her car door. But when firefighters arrived to her rescue, the water was 6 inches below door bottom.
[to top of second column in this article]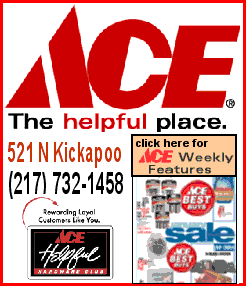 Several Lo

gan County communities remain on flood watch

The hazards are not past. Lincoln Lakes, Lawndale and Waynesville are all affected by creeks that can back up from the Sangamon River. Terry Storer, assistant ESDA director, said this morning that Salt Creek at Greenville is still the greatest concern for flooding communities in Logan County. It is expected to crest at 9 a.m. Saturday.

Watch for flooded roadways

Motorists are urged to slow down and exercise caution on country roads and highways. Ice and blowing snow have created scattered slippery areas that are not always seen in advance of being on them.

Roads are closed at:
2500th Street between 1350th and 1450th (near Union). This road will remain closed due to flood damage from Sugar Creek.
Portions of 1250th Avenue (north of Kickapoo Creek).
1400th Street at Rocky Ford.
2200th Avenue north of Chestnut (Chestnut-Beason blacktop).
100th Avenue both north and south of New Holland has closed areas.
Much of Lawndale was, and some still is, under water. The following streets are closed:
Dress warm and be prepared to help yourself or maybe someone else.