State program assists senior citizens and the disabled with prescription costs
Applications for pharmaceutical assistance program due

Send a link to a friend
[JAN. 17, 2005] SPRINGFIELD -- Illinois Department on Aging Director Charles D. Johnson is reminding senior citizens and the disabled that it's time to apply for the state's Circuit Breaker Pharmaceutical Assistance Program.
"I urge seniors to get those applications completed and turned in before they experience a lapse in coverage," Johnson said. "Also, for those who are reapplying, I suggest doing so online at www.iltax.com. It's a lot faster and will be available Jan. 18."

The Circuit Breaker Pharmaceutical Assistance Program provides coverage for low-income senior citizens and the disabled on medications used to treat Alzheimer's disease, arthritis, cancer, diabetes, glaucoma, heart and blood pressure problems, lung disease and smoking-related illnesses, multiple sclerosis, osteoporosis, and Parkinson's disease. The program also offers grants for property tax relief and a $54 discount on license plates.

"One thing that is changing with Circuit Breaker is where individuals can go for help," Johnson explained. "This includes providing assistance with filling out pharmaceutical assistance applications."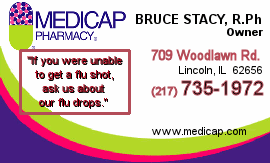 Last year, the Circuit Breaker Pharmaceutical Assistance Program was moved from the Department of Revenue to the Department on Aging. The transition was completed on Jan. 1, when the Department of Revenue officially relinquished its remaining responsibilities involved with operating the program. Participants may now get help at their local Senior Health Assistance Program office.
For more information or assistance, visit www.state.il.us/aging or call the Department on Aging Senior HelpLine at (800) 252-8699.
[Illinois Department on Aging news release]
Life Sentence, No Parole

If we tried to invent the cruelest punishment for dogs, we probably couldn't come up with anything worse than "solitary confinement" on a chain or in a kennel.

Dogs are pack animals who crave the companionship of others. Scratches behind the ears, games of fetch, or even just walks around the block mean the world to them. Curling up at your feet while you watch TV is their idea of heaven.

Many dogs left to fend for themselves at the end of a chain fall prey to attacks by other animals or cruel people, and many others are injured or hanged or choke as a result of getting entangled or caught in their tether.

If you have a backyard dog, please, bring him or her inside. They don't want much--just you.

A public service announcement from Lincoln Daily News and helpinganimals.com