In the years before he was president, Mr. Lincoln spent time in and practiced as a lawyer in several Logan County communities. As the first town named and christened by the man who would later become America's most loved president, Lincoln, Ill., continues to invite the world to come meet him.

The Abraham Lincoln Tourism Bureau of Logan County has actively been advertising so that visitors traveling to the Springfield include Logan County in their stops. Abraham Lincoln wasn't just in Springfield, director Celeste Rogers says. She hopes people will get a more rounded view of the man and the times he lived in by visiting the Logan County sites.

The Illinois Looking for Lincoln program guides tourists through Logan County to special sites. Recommended sites to see include the courthouses in Mount Pulaski and Lincoln, the Lincoln College Museum, and the route heads west over to the stagecoach inn at Middletown, the Dunlap House.

[Sites to see in Logan County]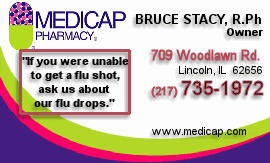 Celeste Rogers, director of Abraham Lincoln Tourism Bureau of Logan County, reports that a new ad designed like a copper-colored penny has been running for six months. It reads: "The adventure begins here. Come see Lincoln as prairie lawyer. Come see Lincoln as railsplitter. Come see Lincoln as surveyor."
Rogers received a report from the state office that tourist inquiries about Logan County are up 1200 percent.
In addition to the surge of interest in Abraham Lincoln, the bureau is pursuing two other avenues to boost tourism. An analysis of the tourism calendar year shows that there are 111 days per year of leisure travel and 255 days that business travelers work on.
Using that analysis and the recent landing of a Fortune 100 company, the tourism bureau has determined to set its sights for 2005 on attracting the business traveler. "Businesses are now looking at Lincoln/Logan County as a growing economy and are more eager to talk to us about bringing in other businesses," Rogers said.
Logan County is centrally located in the state and offers easy access. With that we have graciously been offered by Lincoln College, Lincoln Christian College, the Lincoln Recreation Center, all kinds of places for people to go to enhance their conferences and conventions, Rogers said. I'll custom-prepare arrangements and tours to special interests -- for example, golfing -- so they will enjoy their stay here, she said.
[to top of second column in this article]

Tourism bureau chairman Bob McCue said that there is a livestock meeting scheduled, and kennel projects are in discussion. Lincoln has the facilities to host a number of different sporting events.
The bureau is also negotiating for additional major motels.
The state tourism board has said that they would like to see more bed-and-breakfasts in Logan County.
Future plans
The application for old Route 66 to be recognized as a National Scenic Byway has been submitted to the Federal Highway Administration. In the application Lincoln was named in the official "Two-day Deluxe Tour" of Illinois Route 66. The deluxe tour features an overnight stay in Lincoln.
A response to the application is expected on Sept. 22.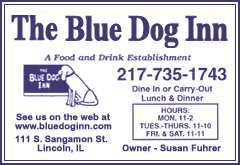 The Logan County Information Station
The new Business 55, Route 66 and Fifth Street location is convenient and easy to find for Interstate 55 travelers.
Route 66 labels sponsored by Coca-Cola and Gold Springs are being sold at the tourism bureau's new office complex, the Logan County Information Station.
Rogers invites the community as well as visitors to stop by and see what's happening in Logan County.
Abraham Lincoln Tourism Bureau
of Logan County
1555 Fifth St.
Lincoln, IL 62656

Phone: (217) 732-TOUR [8687]

E-mail: tourism@lincolnlogan.com