Mount Pulaski vs. Oakland Lake Crest
The Mount Pulaski Honeybears came out strong 10-0 in the first game before the Titans called a timeout. Oakland Lake Crest just couldn't seem to pull it together, and the Honeybears won 15-3.
The Titans regrouped in the second game. No. 23 Melanie Clapp had six kills, while No. 30 Ashley Stark had five kills for the Titans. The game rallied back and forth, with Oakland securing the win 16-14.
In final game the Mount Pulaski Honeybears dominated once again. No. 5 Kelsey Ogelsby served 11 straight points to secure the Honeybears a place in the quarterfinals with a 15-2 win.
Oakland Lake Crest finished its season with a 22-1 record.
The Honeybears, 20-5, will play the Roseville Eagles in the quarterfinals today (Monday) at 3:30 p.m.
[to top of second column in this article]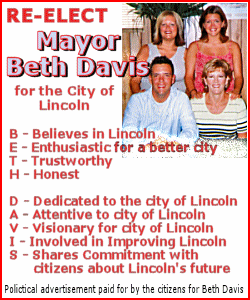 Lincoln Carroll Catholic vs. Bloomington Holy Trinity
Lincoln Carroll Catholic fell to Bloomington Holy Trinity 15-9, 9-15 on Saturday afternoon.
What an exciting match between two evenly matched teams! It was hard to get the ball down on either team. The Lincoln Carroll Catholic Crusaders fought back the entire first game to tie it up at 13-13. No. 11 Samantha Lowman and No. 20 Kayla Jenkins each had five kills in the first game, but it just wasn't enough to get the win.
Bloomington Holy Trinity pulled it out 17-15.
The second game's score does not accurately reflect the play of the game. Carroll Catholic played very well against a tough Holy Trinity team. The Crusaders were down 0-9 with many rallies back and forth. The girls fought hard all the way to the last point. The Saints held onto their lead, winning 15-9.
Bloomington Holy Trinity Saints better their record to 23-1 and will play the winner of the LaHarpe-Metamora game on Monday.
The Crusaders had a very good season, finishing with a record of 17-8. This was the first time in school history that Carroll Catholic advanced to the state tournament in volleyball.
Chelsea Faith coached the Carroll Catholic team: Amy Kelley, Hannah McShane, Samantha Lowman, Kayla Jenkins, Vanessa Ruff, Abbie Cameron and Hannah Sheley
[IESA and LDN]