Calendar listings for this page are based on announcements provided to Lincoln Daily News.
Please let us know about upcoming events. Thank you.
August | September | October | November | December
August 2006
---
Friday-Sunday, Aug. 25-27
SPONSOR: Lincoln/Logan County Chamber of Commerce
WHO: Public
WHAT: Lincoln Art & Balloon Festival
[See article.]
WHERE: Logan County Airport and downtown Lincoln
Saturday, Aug. 26
SPONSOR: Habitat for Humanity of Logan County
WHO: Public
WHAT: Rib-eye steak and pork chop sandwiches fundraiser for Habitat
WHERE: Lincoln IGA parking lot
WHEN: 10 am-3 pm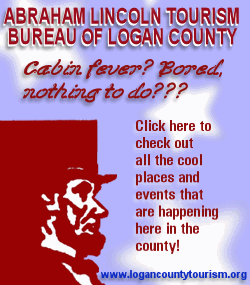 SPONSOR: Lincoln Historic Homes and Buildings Commission
WHO: Public
Tickets may be purchased at the homes on the tour.
WHAT: Lincoln Historic Homes Tour III
WHERE: 204 Lincoln Ave., 227 Lincoln Ave., 507 Union St., 511 N. Ottawa St.
WHEN: 2-4 pm
Sunday, Aug. 27
SPONSOR: Postville Courthouse
WHO: Public
WHAT: 1800s Craft Fair
WHERE: 914 Fifth St.
WHEN: 10 am-4 pm
August | September | October | November | December
Another online community calendar is posted by the Abraham Lincoln Tourism Bureau of Logan County.