Every area where a guest would go has been completely made new, with changes in carpeting, wall surfaces, linens and draperies. Areas include the breakfast room, hallways, the pool and surrounding area, exercise equipment area, the conference room, and all of the 69 rooms that are available.

The motel features a variety of sizes of rooms with slightly varying features. Every room has high-speed Internet, phone and television. The honeymoon suite features a deluxe Jacuzzi. Executive rooms have a small refrigerator and microwave and spatially separated work, living and sleep areas. The most common room arrangement has two queen-sized beds. Rooms that would have several family members in them have a bathroom and a separate sink area.

The new rooms are visually appealing, with a solid, comfortable feel to them. The clean lines, plenty of soft lighting, open arrangement and cozy colors create a welcoming environment.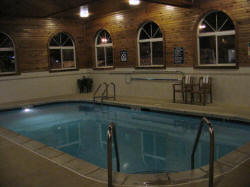 The pool area had substantial changes made to it that affect its appearance. The area includes a large hot tub. The pool was drained and painted. Both the pool and the hot tub have new decorative detailing tile.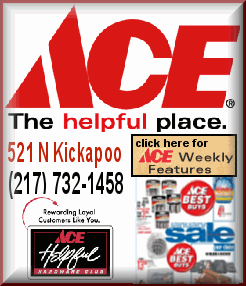 The lower portions of the knotty pine walls have been replaced with a light neutral stucco look. A tile border on the walls nicely coordinates with the new pool and tub accent tiles, tying the new scheme all together. (See picture page.)
The pool is often rented out to groups and is used by the hospital for physical therapy.
Local managers and operators said that the changes are required by Holiday Inn every 10 years to maintain standards of quality. The Lincoln Holiday Inn is coming up on its 10th anniversary.
General manager Kristi Seff was glad to see the project to come to completion now, as she is preparing to relocate with her husband to Williamsburg, Va., next month.
Present and already having started training was her replacement, Ann Meinders. Meinders has transferred here from Peoria Staybridge Suites.