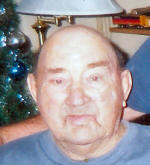 Leonial 'Pappy' Wright

Send a link to a friend
LINCOLN -- Leonial G. "Pappy" Wright, 89, died Tuesday, March 21, 2006, at 6:45 a.m. at Maple Ridge Care Centre.
Visitation was Friday morning at Fricke-Calvert-Schrader Funeral Home in Lincoln.
A graveside service followed at New Union Cemetery, with Casey Tygrett officiating.
Mr. Wright retired from Lincoln Iron and Metal as a material handler.
He was a U.S. Army veteran of World War II.
He was born July 20, 1916, in Broadwell to James and Hester Klarr Wright. He married Dorothy Humbert, and she preceded him in death.
He is survived by one daughter, Kay (and George) Skelton of San Jose; three sons, Russell (and Beth) Wright, James (and Sherry) Wright and Robert Wright, all of Lincoln; two sisters, Pauline Boward of Lincoln and Julia Emery of Bloomington; 16 grandchildren; 23 great-grandchildren; and two great-great-grandchildren.
He was also preceded in death by one daughter, Joann Schrader; one great-grandson; one brother; and one sister.
He was a member of Eagles Lodge 2708 and American Legion Post 263.
Memorials may be made to Hospice Care of Illinois.
Click here to send a note of condolence to the Wright family.
---
Natalie Mitchell

Send a link to a friend
HOPEDALE -- Natalie Ruth Mitchell, 72, died Monday, March 20, 2006, at 9:30 p.m. at Hopedale Hospital after a lengthy battle with cancer.
Visitation will be from 5 until 7 p.m. Sunday at Holland and Barry Funeral Home in Lincoln.
Her funeral will be at 10 a.m. Monday at Holland and Barry, with a short graveside service following at Bethel Cemetery. The Rev. Dean Blackburn will be in charge.
Through the years, Mrs. Mitchell was proud of the fact that her career was that of a housewife, mother and civic leader.
She was born Feb. 15, 1934, in Brighton, Mass., to Clayton and Venus Andrews. She met her future husband, Ken Mitchell of Delavan, at a Fourth of July picnic in 1952. They announced their engagement in October of that year, and on Ken's return from Korea, they were married Feb. 20, 1954, in Rutherford, N.J.
She and her husband lived in Illinois early in their married life and, through a succession of transfers by Ken's employer, eventually settled in California, where they lived until retirement. Then they returned to Illinois, purchasing a home in Hopedale.
She is survived by her husband, Ken, of Hopedale; son Gary and his wife of Santa Rosa, Calif., and grandson Gary Jr., serving in the U.S. Navy; son Glen, his wife and grandson Ethan of Chatham; daughter Gayle and grandchildren Kyle and Ashli of Springfield; son Gregory and his wife of Palos Verdes Estates, Calif.; and son Gerald of Kentfield, Calif.
Mrs. Mitchell was active in her church, being president of the United Methodist Women and Church Women United, helped form a new Methodist church, and served on many committees within the church.
She touched the lives of hundreds of young men through her active leadership in the Scouting program, establishing several Cub packs and Boy Scout troops. She also coordinated the Cub day camp for many years, and her volunteer efforts were recognized by her receipt of the Silver Beaver award.
She served as the chairman of the Sonoma County March of Dimes in California. She also established community food programs for the homeless and disadvantaged and another that provided shoes for schoolchildren from low-income families. These programs and the Cub packs and Boy Scout troops still exist, as a credit to her dedication to help others.
She graduated from high school in Rutherford, N.J., and before her marriage she was employed as an operator for New Jersey Bell Telephone Company.
She lived a full and wondrous life and generously shared her love with family, friends and those in need. She will be sorely missed by those whose lives she touched, all those who knew her and loved her dearly.
Memorial gifts in lieu of flowers may be made in her name to the Emden Historical Society or the charity of the donor's choice.
Click here to send a note of condolence to the Mitchell family.
---
Dr. Earl Swan

Send a link to a friend
LINCOLN -- Dr. Earl M. Swan, 92, died Thursday, March 16, 2006, at 10:50 a.m. at St. Clara's Manor.
A graveside service and Masonic rites will be conducted at 9 a.m. Saturday, March 25, at Millcreek Baptist Church Cemetery, Radcliff, Ky.
Holland and Barry Funeral Home handled arrangements.
Dr. Swan was a chiropractor, taught at Lincoln Chiropractic College in Indianapolis, Ind., and taught 11 years at Lincoln Junior High.
He was born May 11, 1913, in Huntingburg, Ind., to Thomas W. and Amy Marshall Swan. He married Marjorie Rogers in Jan. 16, 1937, in Louisville, Ky. She died Nov. 23, 2004, in Lincoln.
He is survived by two sons, Terry Swan of Williamsville and Thomas (and wife Raquel) Swan of Springfield; two brothers, Edgar T. Swan of Princeton, Ind., and Loren Swan of Medford, Ore.; one grandson, Rick Swan; and two great-grandchildren, Alecia and Richard Swan.
He was a member of First Baptist Church in Lincoln, a past member of the Toastmaster's Club and past member of the Lincoln/Logan County Chamber of Commerce. He was president of the Lincoln Rotary Club from 1967 to 1968, a past master of the Masonic Order Lodge 603 of Vine Grove, Ky., and past president of Central Illinois Chiropractic Society.
He authored three books, "Swan's Poetic Gems," "Book of Wisdom" and "The Secret Diary of Sancho Panza," exposing the true story of Don Quixote.
He was a graduate of Mount Carmel High School and Army Medical School in Washington, D.C. He earned a pre-med bachelor's degree at the University of Louisville, received his master's degree in education from Illinois State University and graduated from Lincoln Chiropractic College in Indianapolis, Ind.