Heart Smart for Teens is a nine-week education program to educate adolescent girls about the risk factors of cardiovascular disease and teach them the importance of healthy diets and physical activity. Last year more than 3,000 girls completed the program, and 78 percent of those girls reported improved knowledge about nutrition and physical activity.
The Illinois WISEWOMAN Program is designed to help women reduce their risk of heart disease, stroke and diabetes through screenings, physical activity and healthy eating habits. This research program is offered in 21 Illinois counties and targets women in the Illinois Breast and Cervical Cancer Program.
Women can learn about the impact of heart disease on women at a free health fair later this month. The Illinois Department of Public Health (IDPH) is helping sponsor a free health fair at the LuxeHome Merchandise Mart in Chicago for National Women's Heart Day on Feb. 16. The health fair is presented by the Sister to Sister: Everyone Has A Heart Foundation, Inc., which was founded in 2000 to increase awareness about women's heart disease and to encourage heart-healthy lifestyles among women.
For more information on heart disease or women's health issues, you can visit the Illinois Department of Public Health website at www.idph.state.il.us, or call the Women's Health-Line at 1-888-522-1282.
The text of the Governor's proclamation designating February Women's Healthy Heart Month follows:
WHEREAS, heart disease is the leading cause of death for American women, claiming the lives of almost 500,000 women per year, at a rate of almost one per minute; and
WHEREAS, in Illinois alone, the year 2004 saw 14,534 deaths in women due to diseases of the heart; and
WHEREAS, the majority of women are not aware of their risk factors for a heart attack, nor are they aware of the signs and symptoms of a heart attack;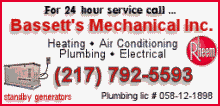 WHEREAS, risk factors for a heart attack are: tobacco use, high blood cholesterol, high blood pressure, physical inactivity, diabetes and obesity;
WHEREAS, symptoms of heart attack are: uncomfortable pressure, squeezing, fullness or pain in the center of the chest that lasts more than a few minutes, or goes away and comes back; pain or discomfort in one or both arms, the back, neck, jaw, stomach; shortness of breath along with, or before, chest discomfort; and cold sweat, nausea or lightheadedness;
WHEREAS, it is critical that we, as a country and state, work to empower women and increase their awareness of the many things they can do to reduce their risk of heart disease;
WHEREAS, this includes exercising regularly, eating healthy meals and snacks, loving their body and taking time for themselves;
WHEREAS, February of each year is nationally recognized as American Heart Month, Go Red for Women, and this year in Illinois, we want to give special emphasis to women's heart health by declaring that February 2007 be Women's Healthy Heart Month; and
WHEREAS, in addition, on February 2, 2007, we are proud to be joining various heart health organizations across the country in encouraging people to wear red in support of the continued efforts to raise awareness of heart disease among women in Illinois:
THEREFORE, I, Rod Blagojevich, Governor of the State of Illinois, do hereby proclaim the month of February 2007 as WOMEN'S HEALTHY HEART MONTH in Illinois, and urge all citizens, especially women, to familiarize themselves with the signs, symptoms and treatments for heart disease, as well as the steps they can take to ensure themselves good heart health.