Send a link to a friend
Calendar listings for this page are based on announcements provided to Lincoln Daily News.
Please let us know about upcoming events. Thank you.
February | March | April | May-December
Another online community calendar is posted by the Abraham Lincoln Tourism Bureau of Logan County.
February 2007
---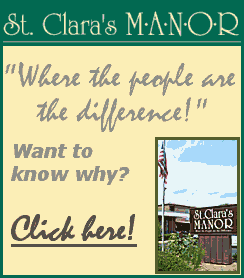 Thursday, Feb. 1
SPONSOR: Logan County Soil and Water Conservation District
WHAT: Annual dinner meeting with presentation on wind energy farms
Reservations by Jan. 25
(See article.)
WHERE: American Legion Home, 1740 Fifth St.
WHEN: 5:30-6 pm social time, 6 pm smorgasbord
Saturday, Feb. 3
SPONSORS: Zion Lutheran School PTL
WHO: Public
WHAT: Pancake and sausage meal
(See article.) (Another article)
WHERE: 1600 Woodlawn Road
WHEN: 7 am-2 pm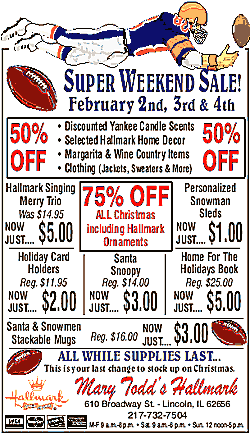 Monday, Feb. 5
SPONSOR: Rep. Bill Mitchell
WHO: Public, county officeholders
WHAT: Satellite office hours
WHERE: Logan County Courthouse, county board room
WHEN: 11 am-noon
SPONSOR: Jefferson Street Christian Church
WHO: People who are separated or divorced
WHAT: DivorceCare weekly seminar and support group
(See article.)
WHERE: 1700 N. Jefferson St.
WHEN: 7-9 pm
Friday, Feb. 9
WHO: Public
WHAT: Central Illinois Community Blood Center blood drive
To schedule an appointment, call Bev Boyer, 947-2217, or sign up at www.cicbc.org.
Watch for more information in Lincoln Daily News.
WHERE: Elkhart Christian Church, 113 S. Gillett, Elkhart
WHEN: 1:30-5:30 pm
Saturday, Feb. 10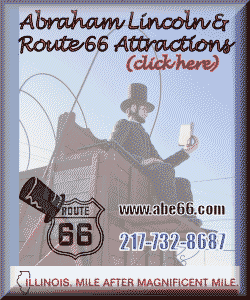 WHO: Public
WHAT: Lincoln's Birthday observance
(See article.)
WHERE: Postville Courthouse State Historic Site, 914 Fifth St.
WHEN: Noon-4 pm
Sunday, Feb. 11
SPONSOR: Main Street Lincoln
WHO: Public, by reservation
Call 732-2929
WHAT: Annual Lincoln Dinner
(See article.)
WHERE: Maple Club
WHEN: 5-6 pm social, 6-7 dinner, 7 pm speaker
Monday, Feb. 12
WHO: Public
WHAT: "1854 Cast Iron Tombstone Trial"
(See article.)
WHERE: Mount Pulaski Courthouse, Mount Pulaski
WHEN: 1 pm (2:30 pm repeat performance upon demand)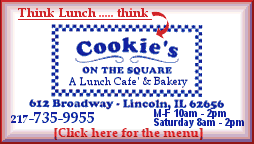 SPONSOR: Jefferson Street Christian Church
WHO: People who are separated or divorced
WHAT: DivorceCare weekly seminar and support group
Watch for more information in Lincoln Daily News.
WHERE: 1700 N. Jefferson St.
WHEN: 7-9 pm
Thursday, Feb. 15
SPONSOR: Christian Village
WHO: Open to the public for friends, family and caregivers of people with Alzheimer's or other related dementias
WHAT: Free meeting of Alzheimer's and Related Dementia Support
Group
Contact: Pam Mulford, 217-732-2189 or 217-732-5038
(See article.)
WHERE: Christian Village Senior Apartment Building, 1500 Seventh St.
WHEN: 6 pm
(Third Thursday monthly)
Monday, Feb. 19
SPONSOR: Logan County Genealogical and Historical Society
WHO: Public invited
WHAT: Monthly meeting

Topic: "Who Inspired Langston Hughes?"
Watch for more information in Lincoln Daily News.
WHERE: 114 N. Chicago St.
WHEN: 6:30 pm
SPONSOR: Jefferson Street Christian Church
WHO: People who are separated or divorced
WHAT: DivorceCare weekly seminar and support group
Watch for more information in Lincoln Daily News.
WHERE: 1700 N. Jefferson St.
WHEN: 7-9 pm
Monday, Feb. 26
SPONSOR: Jefferson Street Christian Church
WHO: People who are separated or divorced
WHAT: DivorceCare weekly seminar and support group
Watch for more information in Lincoln Daily News.
WHERE: 1700 N. Jefferson St.
WHEN: 7-9 pm
Tuesday, Feb. 27
WHO: Registered voters
WHAT: Consolidated primary election
WHERE: Polling places
February | March | April | May-December