Send a link to a friend
Calendar listings for this page are based on announcements provided to Lincoln Daily News.
Please let us know about upcoming events. Thank you.
February | March | April | May-December
Click here for the community calendar compiled by the
Abraham Lincoln Tourism Bureau of Logan County.
April 2007
---
SPONSOR: Harvest of Talents for World Hunger -- Lincoln Christian Church
WHO: Women who enjoy teas
WHAT: 4th annual Spring for Tea
Tickets available at Lincoln Christian Church office Monday through Friday 8 am-5 pm.
For further information, phone 732-7618.
WHERE: Fellowship Center, Lincoln Christian Church
WHEN: 11:30 am (doors open at 10:45 for table viewing)
Tuesday, April 17
WHO: Registered voters
WHAT: Consolidated general election
WHERE: Polling places
Thursday, April 19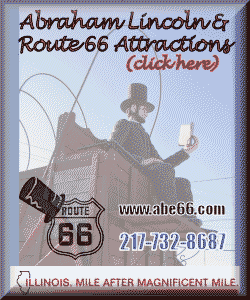 SPONSOR: Christian Village
WHO: Open to the public for friends, family and caregivers of people with Alzheimer's or other related dementias
WHAT: Free meeting of Alzheimer's and Related Dementia Support Group
Contact: Pam Mulford, 217-732-2189 or 217-732-5038
(See article.)
WHERE: Christian Village Senior Apartment Building, 1500 Seventh St.
WHEN: 6 pm
(Third Thursday monthly)
Saturday, April 28
SPONSOR: Railsplitter Antique Auto Club
WHO: Public
WHAT: Classic car cruise-in
WHERE: Downtown Lincoln square
WHEN: 5-9 pm
February | March | April | May-December