Logan County 2006 crop yields

Send a link to a friend
By John Fulton
[FEB. 15, 2007] As anticipated, Logan County had crop yields in the good category, rather than the outstanding area, with the corn yield released by the Agricultural Statistics Service. The Logan County corn yield was established at 171 bushels per acre. This figure was a good rebound from the 144 bushels per acre achieved in 2005, but well shy of the record corn yield established in 2003 with 189 bushels per acre. The Logan County 10-year average for corn yields is 160.3 bushels per acre (1997-2006). The top-yielding corn counties in the state were Carroll County at 185 bushels per acre, Kendall at 184, and McLean, LaSalle and Piatt counties at 182.
Soybean yields dropped a bushel from 2005 levels with a 2006 Logan County average of 52 bushels per acre. The 2005 average yield was 53 bushels per acre. The 2004 crop is the soybean record, with 56 bushels per acre yield. The Logan County 10-year soybean yield average is 49.15 bushels per acre. The top-yielding county in the state for soybeans was once again Carroll County at 58 bushels per acre. Macon County was second at 56. Next were Champaign, Stephenson and Moultrie counties at 55-bushel yields.

The top-producing county again, for total production in bushels, was McLean County, producing 61,443,200 bushels of corn and 14,855,400 bushels of soybeans. Logan County production was 33,618,600 bushels of corn and 7,768,800 bushels of soybeans.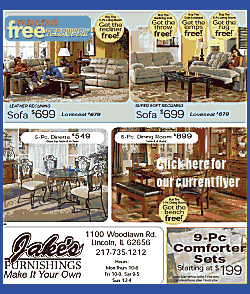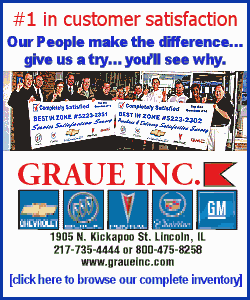 For 2006 crops, wheat is back for Logan County statistics. Last year we had 1,200 acres of wheat harvested, for an average yield of 79 bushels per acre. The 2005 wheat harvest fell below the 1,000-acre minimum, so no statistics were released.
Following is a table of Logan County, and surrounding counties, with 2006 yields in bushels per acre:
| | | | |
| --- | --- | --- | --- |
| County | Corn | Soybeans | Wheat |
| Logan | 171 | 52 | 79 |
| Sangamon | 174 | 54 | 69 |
| Menard | 166 | 49 | 73 |
| Mason | 155 | 47 | 58 |
| Tazewell | 176 | 54 | 71 |
| McLean | 182 | 56 | 82 |
| DeWitt | 178 | 54 | --- |
| Macon | 179 | 56 | --- |
| State average | 163 | 48 | 67 |
(Text from file received from John Fulton, unit leader, University of Illinois Extension, Logan County Unit)