Lincoln Daily News
welcomes letters of appreciation, information and opinion on matters pertaining to the community.
As a community we need to be able to talk openly about matters that affect the quality of our lives. The most effective and least offensive manner to get your point across is to stick to the issue and refrain from commenting on another person's opinion. Letters that deviate from focusing on the issue may be rejected or edited and marked as such.
.
You may also send your letters by e-mail to ldneditor@lincolndailynews.com
or by U.S. postal mail:
Letters to the Editor
Lincoln Daily News
601 Keokuk St.
Lincoln, IL 62656
Letters must include the writer's name, telephone number, and postal address or e-mail address (we will not publish address or phone number information). Lincoln Daily News reserves the right to edit letters to reduce their size or to correct obvious errors. Lincoln Daily News reserves the right to reject any letter for any reason. Lincoln Daily News will publish as many acceptable letters as space allows.
To the editor:

As we enter the flu season, Margie Harris, director of nursing for the Logan County Health Department, has this reminder:

Getting a flu shot makes good sense. Of greatest importance, immunizing people who already suffer from chronic health problems can help them avoid serious flu-related complications that can land them in the hospital or even end their lives.

Each year, 5 percent to 20 percent of the population contracts the flu.

More than 200,000 people are hospitalized annually from flu-related complications.

Ninety percent of the people who have died from flu in the past 10 years were 65 years of age or older.

[to top of second column in this letter]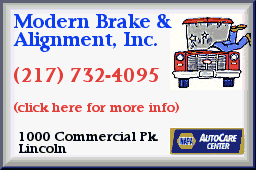 Pneumonia and flu are the fifth-leading cause of death in the U.S. for people 65 years of age and older.
Flu vaccines reduce hospitalizations among the elderly by up to 57 percent and deaths by 30 percent.
It's not too late to vaccinate!!
Julie King
Senior Issues Task Force
(Posted Jan. 4, 2007)