The men collect scrap metal, heaters and appliances that people have dumped, left in alleys or set out at curbside for the taking. "We're just trying to keep the city clean," Bruce said.

Bruce said that they were first told that it would be OK to have their trailer parked on the street as long as it was moved every 72 hours and taken away. They said that it is one day, two days at most, between times that the trailer is moved. They haul away what's on it to the scrap yard one, two or three times per week.

He said that on occasion they have been parking the trailers loaded with appliances and recyclable metal on the street. Management at the apartment house where they live does not want them taking up the parking spaces with the trailers.

Zoning is C-2 (commercial) on one side of the street and R-2 (residential) on the other. C-2 does not allow for recycling processes or recycling storage on property or junk on trailers, city code enforcement officer Les Last said.

Dinger's wife, Paula, asked if there was something they could do, like put a tarp over the trailer that would cover up the appliances.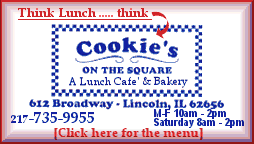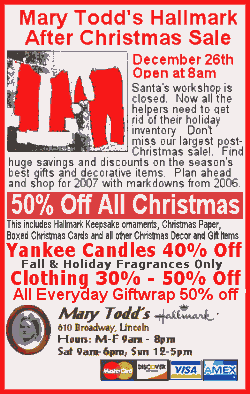 She also called to question other similar situations around town.
City attorney Bill Bates said: "We're not getting into who's doing what. If you're in violation of the city code, you're in violation. We can't ignore it."
"I understand," she said.
"I think it's up to the city council to decide whether they want Mr. Last to enforce the ordinances for the city of Lincoln or they don't want him to enforce them. It's a violation to park a trailer with junk in a residential district."
"It's an eyesore for the people that live there," Marty Neitzel said.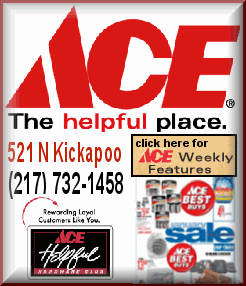 It was further clarified that landscape waste that is seen left on some trailers is not the same as junk.
Alderman Buzz Busby said: "We have an ordinance on the books; we have to enforce it. If we don't want the ordinance enforced, let's take it off the books."
Alderman Marty Neitzel said, "We appreciate what you're trying to do, but the only way to do it is to find some place to park it." She suggested that they seek a commercial place to park.
Bruce that said that they've looked into several places before and it was too expensive.
They would if they could afford to, but they don't make enough money from it to do that.
Dinger and Bruce said that they had a man call them recently who said he was going to be charged $45 to take away a washing machine. They went and picked it up for free. The recyclers said that they don't charge anything, but sometimes someone will give them a little gas money and that helps.
Alderman Jonie Tibbs said: "I think it is a wonderful service. A lot of people can't afford to get rid of appliances, yet you can't do it in a residential area."
Most everyone commented that the work they are doing is a benefit to citizens and the community.
"We're open to any options up here. We're here because we're at a loss for what to do, the metal scrappers said.
The aldermen and Mayor Beth Davis agreed that this is a good and useful service that is being provided. Perhaps they could find some other industrial or commercial place to park and be able to continue their service. Davis invited the group to come to her office to discuss the matter further at another time.