A new generation, new transitions, still holding traditions

Send a link to a friend
[JAN. 23, 2007] Chris and Lesleigh Bennett, owners of Holland, Barry and Bennett Funeral Home at 620 Pulaski St., have gone through several changes in their three years as funeral home directors in Lincoln. In early 2004 they successfully turned their building, once home to Red Fox groceries, into a funeral home facility. In May 2006, they took over full ownership of the prestigious Holland and Barry Funeral Home, located at 325 Pekin St., and are continuing operations under the Holland and Barry name. [click here for pictures which accompany this article]
Holland and Barry Funeral Home was founded by John Barry and Don Holland in 1949. Holland retired from his position as director in 1970; and John Barry, along with his son Ed Barry, continued with the business. During their many decades of experience, Barry and Holland created a business of strong traditions and good service to the community of Logan County.

Before a purchase took place, the Bennetts were approached by Carla Barry, wife of Ed Barry, to purchase the business. After much thought, the Bennetts agreed. "Mrs. Barry wanted to give us, a young family, the opportunity to grow in the community," says Lesleigh Bennett, funeral home director.

Now with their own years of experience, the Bennetts plan to continue in the Holland and Barry tradition, also bringing their own new start by completely combining both facilities. "Once we bought the Holland and Barry building, we never planned on closing the facility," says Lesleigh Bennett. As of four months ago, the Bennetts decided to consolidate the offices, bringing all files and operations into the Pulaski Street building. "Within the past four months, we have only had three families request to have their loved ones' funerals facilitated at the 325 Pekin St. building," Lesleigh said. "Chris and I decided that one facility would better serve the community."

The Bennetts kept the full staff of Holland and Barry, which includes one full-time secretary and four part-time employees -- including Paul Heins, who has been a part of Holland and Barry for 50 years.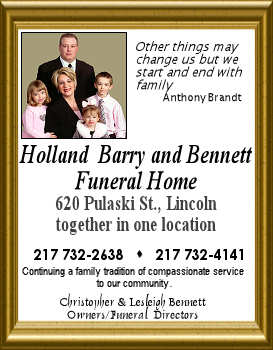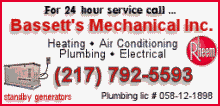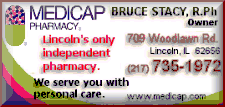 When Chris and Lesleigh put the Pekin Street building on the market, they included in the real estate contract that the building cannot be purchased with the intent to tear it down. The purchase of the business and placing the building on the market was completely shared with the Holland family. The Hollands -- Martha Holland and Rhoda Holland and their mother, Mildred Holland, wife of Don Holland -- are in full support of the Bennetts' future plans and goals and have maintained a great relationship with them.
"We are pleased that the Bennetts are continuing to use our family name on their business," states Martha Holland, daughter of Don and Mildred. "We are confident they will carry on the tradition of good, honest, caring service which Holland and Barry was founded on, even though it is now in a different location."
"The tradition of Holland and Barry is dignity, pride, trustworthy service. This is what we plan to carry on," says Lesleigh Bennett. The fresh changes that the Pulaski Street building offers are in a one-level facility, which is completely handicapped-accessible. A family lounge with the comforts of home is also included.
"We have had the full support of all staff and the Holland family," Lesleigh says, "which has helped make the transition so smooth." A transition that has proven to be a good move for the Bennetts as they continue to establish themselves in the Lincoln community.
[Janell Woolard]