Send a link to a friend
Calendar listings here are based on announcements provided to Lincoln Daily News.
Please let us know about upcoming events. Thank you.
January | February | March | April | May-December
Another online community calendar is posted by the Abraham Lincoln Tourism Bureau of Logan County.
January 2007
---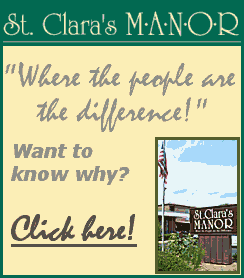 Saturday, Jan. 27
SPONSOR: Lincoln Pony Association
WHAT: Registration for summer recreational softball and baseball
[See article.]
WHERE: Lincoln Park District Rec Center
WHEN: 12:30-3:30 pm
SPONSOR: St. Patrick's/St. Thomas Aquinas Youth Group
WHAT: Trivia Night fundraiser
[Details]
WHERE: St. Thomas Aquinas Activity Center, 321 S. LaFayette St., Mount Pulaski
WHEN: 7 pm (6 pm registration)
Sunday, Jan. 28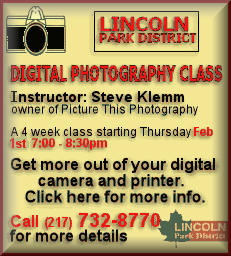 SPONSOR: Lincoln Community High School Fine Arts Department
WHO: Public
WHAT: Comedy: "The Foreigner"
[See article.]
WHERE: LCHS auditorium
WHEN: 2 pm
Monday, Jan. 29
SPONSOR: Jefferson Street Christian Church
WHO: People who are separated or divorced
WHAT: DivorceCare weekly seminar and support group
[See article.]
WHERE: 1700 N. Jefferson St.
WHEN: 7-9 pm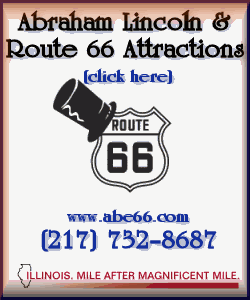 Wednesday, Jan. 31
SPONSOR: Humane Society of Logan County
WHO: Public
WHAT: General membership meeting
[See article.]
WHERE: Logan County Paramedic Association building, Postville Road
WHEN: 7 pm
SPONSORS: Holy Family Church and Carroll Catholic School
WHO: Public
WHAT: Seminar: Smart Discipline for Parents
[See article.]
WHERE: Knights of Columbus Hall, 217 N. Limit St.
WHEN: 7-9 pm
January | February | March | April | May-December