Dedication of first Ostendorf Abraham Lincoln sign

Send a link to a friend
[July 03, 2007] During a trip to Gettysburg, Pa., historian Paul Beaver had an inspiration. He noticed that the town had several signs to explain local events and historic locations. Upon his return home, Beaver set about to make it happen in Logan County. Tuesday morning the first of these brand-new signs was placed on the Sherwin-Williams building, at 523 Pulaski Street, a lot once owned by Abraham Lincoln.
The unique thing about these signs is that they will all feature a color illustration produced by Lloyd Ostendorf, a well-known Lincoln collector and illustrator from Dayton, Ohio. Lester O. Sheridan contacted Ostendorf around 1971 and commissioned him to do a series of illustrations depicting various activities of Abraham Lincoln in Logan County. Eventually, around 30 different pictures were produced, mostly in black and white.

Enter Adam May, former student of Paul Beaver and creator of AMP Studios in Lincoln. May was able to use computer software to add color to Ostendorf's black-and-white pictures. With this technology, the pictures on the signs are bright and eye-catching, as well as informative.

Area residents, businesses or clubs will sponsor each of these new Abraham Lincoln Ostendorf signs. For the first, Beaver approached the Logan Railsplitting Association for sponsorship. The group agreed and voted to sponsor the sign in memory of the late Lester O. Sheridan. This sign shows Abraham Lincoln paying taxes on his lot to the deputy county collector of taxes at the old Logan County Courthouse.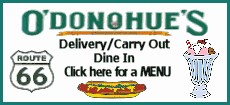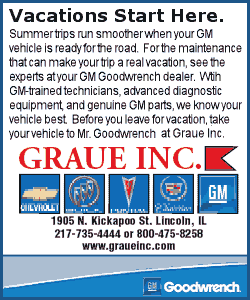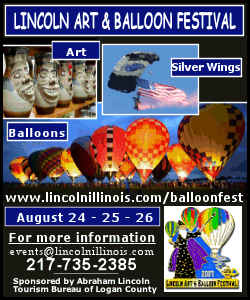 More signs are on the way in Logan County, as the city of Atlanta is proceeding with the acquisition of four signs, which will deal with Lincoln's involvement in that city. Also, Main Street Lincoln director Wanda Rohlfs and Paul Beaver, chairman of Main Street's Looking for Lincoln program, are working on a kiosk for the courthouse square. The Abraham Lincoln Tourism Bureau of Logan County has also approved signs at the Railsplitter covered wagon, donated to the bureau by Larry Van Bibber, and at the Postville well, where Lincoln drank water, across from Postville Courthouse. Interest has also been expressed for placing signs at Postville Courthouse and the Middletown Stagecoach Inn, as well as sites in Mount Pulaski, Elkhart and other Lincoln sites around Logan County. In all, about 30 sites are slated to have signs.
In addition, there will be a new brochure and audio CD on Logan County Abraham Lincoln sites.
The project is a combined effort of area communities and tourism-related entities.
Paul Beaver said, "For me personally, it has been a long struggle to see these signs put in place, and it is now very nice to see the very first one in place and in honor of a great friend, Les Sheridan."
This year's Abraham Lincoln National Railsplitting Contest takes place Sept. 14, 15 and 16.
[Text from news release received from Abraham Lincoln Tourism Bureau of Logan County]