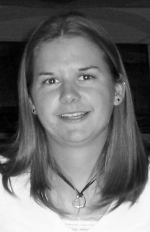 LCC alumna accepts youth minister position in Oakland

Send a link to a friend
[July 07, 2007] OAKLAND -- Recent LCC graduate Kari Otto is the new youth minister at Oakland Christian Church in Oakland, where she will lead programs for fifth-graders through seniors.
"God has really given me a big heart for working with kids this age," Otto said. "I am really excited to be here, and I am excited to see what God has in store for us this year."
Otto graduated from Lincoln Christian College in May, earning a bachelor's degree in general ministry, with a focus in youth ministry.
She began her work in the ministry by serving as youth sponsor at her home church, Ramsey Christian Church, from June 2002 to August 2006.
In the summer of 2006, she served on Lincoln Christian College's camp team, which included representing LCC at a variety of church camps and serving as a camp counselor.
Since August 2006, she had been a youth ministry intern at Smyser Christian Church in Gays, where she led children's church and Sunday school; led youth groups for junior high and high school; assisted with a variety of ministries; helped coordinate an Easter drama production; and assisted with the planning of summer trips, including a Christ in Youth summer conference and a mission trip to New Orleans.
"I have been blessed to spend this past year at Smyser," Otto said. "Working with their youth minister, Vickey Hostetter, has been great. She has taught me a lot about doing youth ministry, and I am looking forward [to] putting what I have learned into practice."
Ed Bacon, minister at Oakland Christian Church, said Otto will be a great addition to the church and the community. Bacon is also an LCC alumnus, as well as a former adjunct professor and head soccer coach at LCC.
"Kari has a passionate heart for youth ministry," Bacon said. "She's a small-town girl and will be a great fit here in Oakland."
More information about Oakland Christian Church is available online at www.oaklandchristianchurch.org.
[Text from news release received from Janice Hunt]
---
Sunday speaker at Good Shepherd Lutheran Church

Send a link to a friend
[July 06, 2007] Pastor Dick Ewing of Ottawa, a retired pastor of the Association of Free Lutheran Congregations, will be the guest speaker at Good Shepherd Lutheran Church, 1140 N. State, on Sunday morning at 10. The public is invited to attend.
[Text from announcement received from George Dahmm]
---
St. Patrick's Catholic Church to celebrate sesquicentennial on July 7
100th chicken dinner anniversary on July 22

Send a link to a friend
[June 23, 2007] ELKHART -- Throughout 2007, St. Patrick's Catholic Church in Elkhart will be celebrating its sesquicentennial. The parish, which was established in 1857, has been continuously operating ever since.
The highlight of the year's celebration will be a special Mass and luncheon on July 7. Bishop Daniel R. Jenky, CSC, the bishop of the Peoria Diocese, will join the celebration. All living former pastors have also been invited.
The day's schedule is as follows (all times approximate):
11 a.m. -- Gather at the doughboy statue in Veteran's Park on Elkhart's main street. Short procession to the church, at 213 S. Bogardus St.

11:20 -- Mass, with Bishop Jenky as main celebrant and former pastors as concelebrants.

12:30 -- Luncheon on the church grounds.
There will be music throughout the luncheon, which is expected to last about two hours.
In addition, the parish will also be celebrating the 100th anniversary of its annual chicken dinner, which will be served this year on July 22.
[Text from news release received from Father Thomas Shaw]
---
July events at St. Peter Lutheran Church, Emden

Send a link to a friend
[June 23, 2007] EMDEN -- St. Peter Lutheran Church has released its July calendar. Click here.
---
LDN column: Here I Am, Send Me:
Recent religion articles from The Associated Press:
Obama says some have 'hijacked' faith
---
Send your church announcements and articles to ldneditor@lincolndailynews.com.