It's partly because manufacturers haven't completely meshed their systems with cash registers and other hardware developed by restaurant management companies. But it's also because many manufacturers have to better sell the benefits, said George Peabody, director of emerging technologies advisory services at the Mercator Advisory Group.
"They've got to prove a real market need, and it's got to be really clear," Peabody said.
Neither Verifone nor Hypercom _would reveal the price of the units, but both have launched tests in U.S. markets to gauge how the American diner reacts. Both companies specialize in secure electronic payment devices. Hypercom sells devices in Europe, China and Latin America. Verifone sells in Europe, Israel and Southeast Asia.
At Ray's Killer Creek, an upscale steakhouse in the north Atlanta suburb of Alpharetta, the VeriFone system didn't take long to catch on.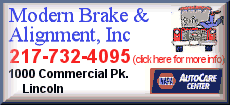 Jim Wahlstrom, the restaurant's operating partner, spent roughly 10 minutes on briefing his waiters about the technology.
"We're all used to grocery stores and ATM machines," Wahlstrom said. "We all operate with our credit cards and debit cards in our daily lives."
As the happy-hour crowd filed into the restaurant on a recent weekday afternoon, many seemed unfazed by the new way to pay.
Wayne Smith and two friends had just scarfed down three steaks and were waiting for the $191 bill when his waiter plopped down the machine. He scanned his card, touched the square denoting a 20 percent tip and waited for his receipt.
"I feel a little like I'm at Wal-Mart," he said.
___
On the Net:
Verifone: http://www.verifone.com/
Hypercom: http://www.hypercom.com/