July 2007

Send a link to a friend
---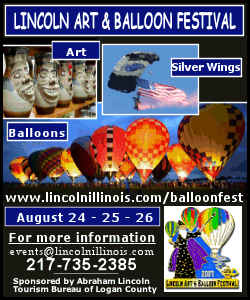 Monday, July 9
DivorceCare seminar and support group
SPONSOR: Jefferson Street Christian Church
WHO: People who are separated or divorced
(See article.)
WHERE: 1700 N. Jefferson St.
WHEN: 7-9 pm
Tuesday, July 10
Orthopedic innovations information fair
SPONSOR: Abraham Lincoln Memorial Hospital
WHO: Free and open to the general public
DETAILS: The Zimmer Mobile Learning Center will be on hand to showcase the latest tools, techniques and treatment options for joint-related orthopedic problems. No appointment necessary.
(See article.)
WHERE: ALMH -- Seventh Street parking lot
WHEN: 9 am-3 pm
"Honk!"
SPONSOR: Lincoln Community Theatre
WHO: Public
(Ticket information)
WHERE: Johnston Center for Performing Arts, Lincoln College
WHEN: 7:30 pm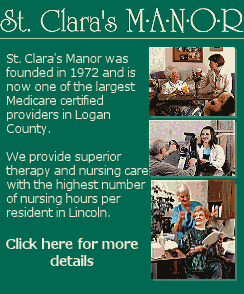 Wednesday, July 11
Total joint replacement seminar
SPONSOR: Abraham Lincoln Memorial Hospital
WHO: Community members wanting to learn more about total joint replacement surgery and rehabilitation
(See article.)
WHERE: ALMH's Lincoln Conference Room
WHEN: 7 am
"Honk!"
SPONSOR: Lincoln Community Theatre
WHO: Public
(Ticket information)
WHERE: Johnston Center for Performing Arts, Lincoln College
WHEN: 7:30 pm
Thursday, July 12
"Honk!"
SPONSOR: Lincoln Community Theatre
WHO: Public
(Ticket information)
WHERE: Johnston Center for Performing Arts, Lincoln College
WHEN: 7:30 pm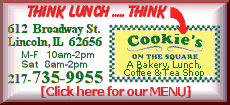 Friday, July 13
Blood drive
SPONSOR: Elkhart Christian Church
WHO: Public
DETAILS: Call Bev Boyer to sign up at 947-2217, or schedule an appointment online at www.cicbc.org.
Watch for more information in Lincoln Daily News.
WHERE: 113 S. Gillett, Elkhart
WHEN: 1:30-5:30 pm
"Honk!"
SPONSOR: Lincoln Community Theatre
WHO: Public
(Ticket information)
WHERE: Johnston Center for Performing Arts, Lincoln College
WHEN: 7:30 pm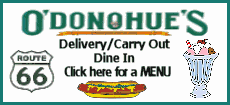 Saturday, July 14
Glass recycling collection
SPONSORS: Logan County Joint Solid Waste Agency, Lincoln Junior Woman's Club, Saint-Gobain Containers and Lincoln Wal-Mart
WHO: Public
DETAILS: (See article.) Only container (food or beverage) glass will be accepted. Clear glass, as well as amber, green and blue, will be accepted. Unacceptable items include ceramics, dishware, light bulbs, fluorescent lights, window glass and mirrors. Broken glass will not be accepted due to safety issues for volunteers.
Glass preparation: Rinse all containers thoroughly. Remove all metal or plastic rings from containers. Labels may be left on containers.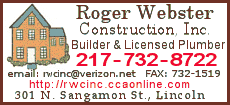 WHERE: Wal-Mart Supercenter parking lot
WHEN: 9 am-noon
(Second Saturday April-October)
Summer card party
SPONSOR: The Oasis
DETAILS: Tickets available at the senior center.
WHERE: 501 Pulaski
WHEN: 1 pm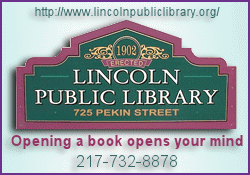 "Honk!"
SPONSOR: Lincoln Community Theatre
WHO: Public
(Ticket information)
WHERE: Johnston Center for Performing Arts, Lincoln College
WHEN: 7:30 pm
July 14-15
American Cancer Society Relay for Life
SPONSOR: Relay for Life of Minier
WHO: Public
Watch for more information in Lincoln Daily News.
WHERE: Minier Park, Minier
WHEN: Saturday noon opening to 5 am Sunday breakfast
Monday, July 16
Logan County Genealogical and Historical Society meeting
SPONSOR: Logan County Genealogical and Historical Society
WHO: Members and visitors
Watch for more information in Lincoln Daily News.
WHERE: 114 N. Chicago
WHEN: 6:30 pm
DivorceCare seminar and support group
SPONSOR: Jefferson Street Christian Church
WHO: People who are separated or divorced
Watch for more information in Lincoln Daily News.
WHERE: 1700 N. Jefferson St.
WHEN: 7-9 pm
Wednesday, July 18
27th annual pork barbecue
SPONSOR: First Presbyterian Church deacons
WHO: Public invited
DETAILS: Pork barbecue sandwiches, choice of coleslaw or applesauce, chips, drink, dessert with ice cream. Carryouts available. To buy tickets in advance, contact the church office, 732-6141, or any member.
WHERE: 301 Pekin
WHEN: 5-7:30 pm
Thursday, July 19
Free meeting of Alzheimer's and Related Dementia Support Group
SPONSOR: Christian Village
WHO: Open to the public for friends, family and caregivers of people with Alzheimer's or other related dementias
DETAILS: Contact Pam Mulford, 217-732-2189 or 217-732-5038
(See article.)
WHERE: Christian Village Senior Apartment Building, 1500 Seventh St.
WHEN: 6 pm
(Third Thursday monthly)
July 20-22
60th annual Emden Homecoming
SPONSOR: Sons of American Legion
WHO: Public
WHERE: Emden
WHEN: Friday -- Chicken supper, New Salem Country Opry, amusements, drawing
Saturday -- Townwide garage sales, crafts, pork chop sandwich sale, kiddie tractor pull, 1:30 pm parade, fish supper, amusements, The Dynamics, drawing
Sunday -- 10:30 am combined church services, St Peter Lutheran Church lawn
Call 217-376-3153 or 217-737-0320 for information or specific times.
Saturday, July 21
Armington children's memory garden fundraiser
SPONSOR: Armington Harvest Day Committee
WHO: Public
Watch for more information in Lincoln Daily News.
WHERE: Armington
WHEN: 3-8 pm
Monday, July 23
DivorceCare seminar and support group
SPONSOR: Jefferson Street Christian Church
WHO: People who are separated or divorced
Watch for more information in Lincoln Daily News.
WHERE: 1700 N. Jefferson St.
WHEN: 7-9 pm
July 27-Aug. 4
"Cinderella"
SPONSOR: Lincoln Community Theatre
WHO: Public
(Ticket information)
WHERE: Johnston Center for Performing Arts, Lincoln College
WHEN: 7:30 pm Tuesday-Saturday; 2 pm Sunday
July 27-28
Cemetery walk
SPONSOR: Emden Historical Society
WHO: Community members
DETAILS: Five presenters. For tickets or further information call 217-376-3859.
WHERE: Bethel Cemetery, rural Emden
WHEN: 6:30 pm rain or shine (prompt start)
Saturday, July 28
St. Jude fundraiser
SPONSOR: Main Street Lincoln and Railsplitter Antique Auto Club
WHO: Public
(See article.)
WHERE: Downtown Lincoln
WHEN: Noon-9 pm
Classic car cruise-in
SPONSOR: Railsplitter Antique Auto Club
WHO: Public
WHERE: Downtown Lincoln square
WHEN: 5-9 pm
Sunday, July 29
Eagle Scout service project breakfast fundraiser
SPONSOR: Corey Janssen and Boy Scout Troop 102
WHO: Public
DETAILS: To raise money for new desks and tables for Carroll Catholic School. Menu includes eggs, bacon, sausage, gravy, biscuits, potatoes, coffee and juice. For advance tickets, call 735-4155.
Watch for more information in Lincoln Daily News.
WHERE: Knights of Columbus Hall, 217 N. Limit
WHEN: 7:30 am-noon
July 31-Aug. 5
Logan County Fair
WHO: Public
WHERE: Logan County Fairgrounds