City briefs

Send a link to a friend
Dog fine could bite
[July 09, 2007] There will be no more excuses for pet owners who don't clean up after their dog at Lehn and Fink Park, and it could cost violators $25 to $500. The Lincoln City Council reviewed a petition with over 30 signatures that requested that dog owners take their dogs to do their duties in a field out back, away from play areas.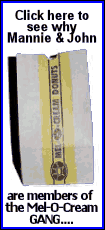 After discussion and advisement by the city attorney Bill Bates, the council approved installing signs citing the city ordinance. However, this is an ordinance that is applicable citywide, signs or no signs.

For those who may have forgotten, volunteers are also providing refuse bags for use at the park.

The council also approved:
First-time cash rental of 40 acres to Darrel Benner. This is ground the city acquired from Wal-Mart.

To install four new computer docking stations and equipment in squad cars. The cost is $3,981, to be paid out of alcohol fines.

To replace aerators at the wastewater treatment plant: $8,280.

To amend the south plant lift station engineering agreement with Donohue & Associates. There was a change in a location that affected the plans and made the cost less. It is now $39,940.