Deregulation legislation allows Illinois commercial customers to stay with their current energy supplier or purchase electricity on a contract basis from another licensed supplier. Contract prices are based on a negotiated or competitive selection process controlled by the customer. Prices are set for a specified term. Choosing a supplier typically provides price and budget stability for a contract period of 12 to 36 months.

This value-added service is available to members of the Lincoln/Logan County Chamber of Commerce. Participation in the cooperative requires continuous membership in the chamber during the term of the energy agreement. Businesses that are not currently a member of the chamber may join the chamber to qualify for participation.

Co-op membership is based on the business location. Members pay a registration fee for each location. Each location can have multiple meters or accounts. Members complete a co-op application and credit application and must meet the credit qualifications stipulated by the suppliers.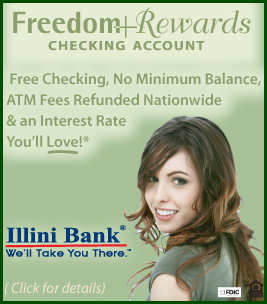 Interested business representatives may attend one of two energy co-op meetings: Monday at 3 p.m. or Tuesday at 8 a.m. Both sessions will be in the Lincoln Park District's Railer Room.
Prior to the co-op meeting, representatives may attend the chamber of commerce board of directors meeting for a brief lesson on "How to Read Your Utility Bill." This meeting, with a Dutch treat lunch, will be at noon Thursday in the Lincoln Elks ballroom.
Reservations are strongly suggested to attend the meetings and can be secured by calling 217-735-2385.
[Text from news release received from Lincoln/Logan County Chamber of Commerce]