Archie Ambrose

Send a link to a friend
[July 10, 2007] Archie L. Ambrose, 89, of Lincoln died July 2, 2007, at 11:10 a.m. at Abraham Lincoln Memorial Hospital.
Local visitation will be from 4 to 7 p.m. Friday, July 13, at Fricke-Calvert-Schrader Funeral Home in Lincoln.
His funeral will be at 10 a.m. Saturday, July 14, at Palmyra Christian Church, with Nevin Curtis officiating. There will be an hour of visitation prior to the service.
Burial will be in Oak Hill Cemetery, Palmyra.

Mr. Ambrose was a truck driver for many years. He also worked at Beich Candy and retired as layer operator from Pittsburg Plate Glass Co. in Lincoln.

He was born March 13, 1918, at Scottville to William Riley and Addie Belle Hicks Ambrose. He married Evelyn Maxine Shinpaugh on Oct. 16, 1940. She preceded him in death March 12, 1975.

He is survived by three daughters, Virginia Ambrose-Mowry of Gilbert, Ariz., Carole (and Don) Smith of Marion, Iowa, and Cynthia (and Mark) Armstrong of Choctaw, Okla.; and four grandchildren, Rod and Rick Smith and Lindsay and Alicia Armstrong.

He was also preceded in death by four brothers and three sisters. He was the last of his immediate family.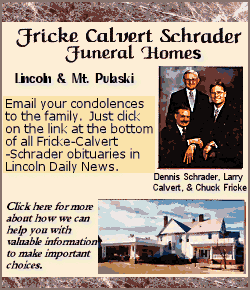 He was a member of Lincoln Christian Church.
Memorials may be made to his church or to Abraham Lincoln Memorial Foundation.
Click here to send a note of condolence to the Ambrose family.