Mary Hopp

Send a link to a friend
[July 16, 2007] Mary Ann Hopp, 69, of Lincoln died Sunday, July 15, 2007, at 3:33 p.m. at her granddaughter Miranda's home in Elizabethtown.
Mrs. Hopp's funeral will be at 11 a.m. Wednesday at Fricke-Calvert-Schrader Funeral Home in Lincoln, with the Rev. Phillip Blackburn officiating. Visitation will be one hour prior to the service.
Burial will be in Zion Cemetery at a later date.

Mrs. Hopp was a retired private caregiver.

She was born Oct. 5, 1937, in Lincoln to Earl and Mulvilda "Betty" L. Harness Miller. She married Charles Nichols Sr., and he preceded her in death.

She is survived by three daughters, Vicki (and Eric) Poertner, Reva Lucio and Teresa Nichols, all of Lincoln; two sons, Roger (and Kathy) Miller of Lincoln and Frank Nichols of Lincoln; two brothers, Everett Miller of Lincoln and Earl "Pete" Miller of Madison, Wis.; one sister, Bonnie Clemens of Bakersfield, Calif.; 27 grandchildren; 24 great-grandchildren; and one great-great-grandchild.

She was also preceded in death by her parents; two sisters; one son, Charles Nichols Jr.; one grandson, Michael Nichols; and one granddaughter, Angie Gill.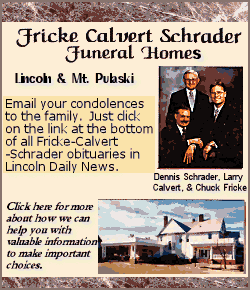 Memorials may be made to Ronald McDonald House or American Diabetes Association.