'Tornadoes'

Send a link to a friend
[March 28, 2007] "Tornadoes," by Michael Woods and Mary B. Woods, 2007, Lerner Publications, 64 pages, ages 8-12 years
Review by
Louella Moreland
As summer approaches, people of the Midwest are very aware of the storms that can roar out of nowhere, creating massive devastation of property and even loss of life. Young people are faced with news stories, watches and warnings that can be lifesaving but also quite frightening. Sometimes it seems inconceivable how quickly storms can change our lives.
With the recent deaths of eight young people at a school in Enterprise, Ala., we are made aware that no one is immune to these forces of nature. Tornadoes are a fact of life where we live. At some point children will probably be forced to deal with a situation where they take cover from such a storm. Parents can help children be prepared and more informed by exposing them to information on storms. The library can be a valuable resource.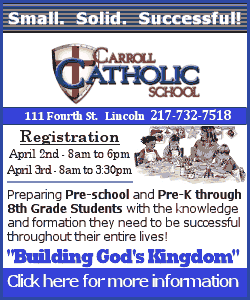 "Tornadoes," a new release from Lerner Publications by Michael Woods and Mary B. Woods, contains tips on tornado safety, the differences between watches and warnings, and safety precautions after a storm. Myths and facts about tornadoes are discussed. The authors point out that early detection and measuring of storm data has helped decrease human fatalities as technology enables meteorologists to predict the formation of tornadoes more accurately.
Interesting questions about these storms are answered, such as: What causes a tornado? How does a tornado form? Why does it "twist"? What is the Fujita scale? Is a tornado the same thing as a hurricane?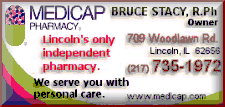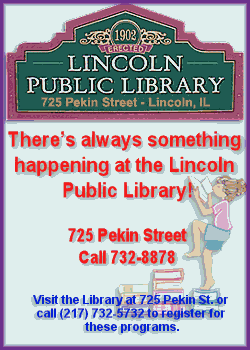 Did you know that weather forecasters in the United States could not even use the word "tornado" until 1952? It was feared that such a prediction would cause mass panic and people would get hurt trying to get out of the path of the storm.
The authors keep explanations short and understandable, with lots of diagrams and photos sprinkled on every page. Even the colors chosen for the pages remind one of the muddy green color that storm clouds become before a severe storm. A timeline, glossary and other resources may help children with a larger frame of reference or help with school reports.
Although tornadoes are a serious subject, we can find ourselves fascinated by their bizarre destruction. Photos and firsthand accounts by people who survived tornadoes bring into focus how fickle these twisting masses of air can be!
To check out this book and others on storms and storm safety, visit the Lincoln Public Library at 725 Pekin St.
[Text from file received from Louella Moreland, youth services, Lincoln Public Library District]