Windswept Manor Bed and Breakfast, 227 N. Logan in Lincoln, will host a public open house and reception from 10 a.m. to 4 p.m. on Saturday. Innkeepers Brad and Diane Logsdon recently completed major renovations to the historic 1859 house on an original part of old Route 66 and are open for business.

The home has been completely redecorated. Each room is themed for a production of the Mystery Ink Interactive Dinner Theater at 121-123 S. Sangamon in Lincoln, co-owned by the Logsdons and Diane's daughter and son-in-law, Dave and Chris Milliman. The shows are original and written by Diane. The name of the bed and breakfast came from the first show the couples produced in Lincoln, "The Ghost of Windswept Manor."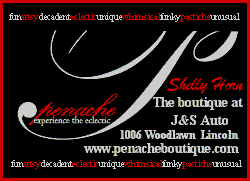 Inside, the parlor and dining room are themed for the West Palms Hotel, the setting of the Western show "Death and Dirt in Dodge Town." "The Farmer in the Well" was the inspiration for the kitchen, which is decorated for the Rise and Shine Bed and Breakfast, the location of the "Farmer" show.
Upstairs, guests can stay in the Lodge Suite, themed for the show "Decked at Hall's Mountain Lodge." This suite has a bathroom that features a whirlpool tub and separate shower. Across the hall is the Tropicool Suite, named for the show "Iced on Tropicool Island." The bath features a soaking tub, and besides the bedroom with king-size bed, there is an adjoining lounge area.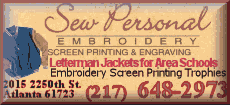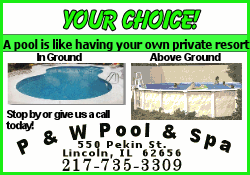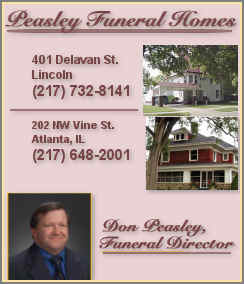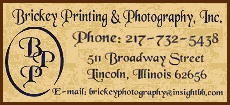 Guests may relax in the Mardi Gras French Quarter snack area, where cold drinks, snacks and coffee await visitors. This area leads to a veranda that guests can enjoy.
Other rooms are the "Rubbed Out at Ruby's Room," decorated in a '50s diner and Route 66 theme. The Lincoln bedroom is inspired by the September show, "Lincoln and the Lost Client." It features quilts and antiques. The shared bathroom is decorated in a pirate theme for the show "The Ghost of Pirate's Cove."
Each morning, guests will be served a gourmet breakfast prepared by Chris Milliman, culinary food stylist of Mystery Ink and Elizabeth's.
For reservations and more information, call 309-212-0631 or 217-732-6102.
On the Web: www.windsweptmanor.com
[Text from file received from Diane Logsdon]