Watercooler Stories
Presentation exasperation
Send a link to a friend
[May 22, 2007] (AP) If you want to drive your co-workers crazy at a business meeting, interrupt someone, answer your cell phone or fall asleep. If you really want them to curse your name, drag them into a meeting and blather away, absent any planning or sense of direction.
Disorganized, rambling presentations are workers' greatest source of frustration at meetings, a new survey reports.
"If you're going to ask someone for time, make sure you're using their time like you would use your time," said Jeff Resnick of Opinion Research USA, which conducted the survey.
Domineering colleagues, cell phone interruptions and co-workers who fall asleep were runners-up on the list. Pet peeves differed between generations, with workers over 55 complaining about long meetings with no bathroom break, while the 18-24 set wanted food and drinks in exchange for their attention, Resnick said.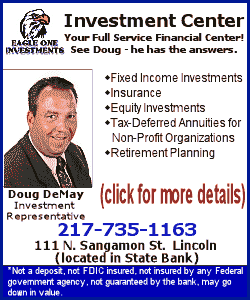 Only 4 percent of people complained about meetings starting late, so take heed, presenters: Better to be late than long-winded.
The random telephone survey of approximately 1,000 people was conducted in mid-April.
[Text copied from file received from AP Digital; article by Jackie Farwell, AP business writer]