Lincoln goes Shakespeare for Lincoln
All-day Renaissance Faire downtown Saturday

Send a link to a friend
"Shakespeare can be a politician's best friend. He certainly was Abraham Lincoln's favorite author." -- David James Harkness and R. Gerald McMurtry, "Lincoln's Favorite Poets"
"There is abundant evidence that Lincoln sought out Shakespeare's plays during the most trying hours of his presidency as sources of strength and consolation."
-- Richard J. Carwardine, "Lincoln: Profiles in Power"
[May 31, 2007] In the spirit of our namesake president, Abraham Lincoln, the second annual Renaissance Faire will be held in downtown Lincoln this weekend. Wanda Lee Rohlfs, executor director of Main Street Lincoln, announces details of the event.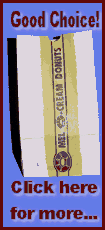 Abraham Lincoln would be excited if he were present in Lincoln on Saturday, Rohlfs said. He would not miss the Renaissance Faire, because he would want to see our Shakespeare play, "Twelfth Night," performed by Speaking Ring Theatre. "It would bring back memories of when he spoke to 5,000 people on the Logan County Courthouse lawn in October of 1858," she said.

Were he here, the play and events that are planned would provide Mr. Lincoln with great pleasure. He would see a comedy that centers on mistaken identity with a shipwrecked lady who believes her twin brother to be dead and masquerades as a young page. Unfortunately, a lady falls in love with him (her). However, the twin brother is alive and appears on the scene. The similarity of the two leads to wonder and awe, and to love and marriage.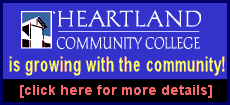 The Kickapoo side of the courthouse lawn will be transformed into a castle setting as backdrops, tents, banners and flags are moved into place. Some seating will be available, but it would be wise to bring your own lawn chair.
The Children's Ring will have face painting, tattoos and games available. "Of course, court jesters will be there to entertain at a moment's notice," Rohlfs said.
Food will be available all day long in the downtown restaurants, and some Renaissance food will be served from sidewalk carts. Stores will also be open for shopping. You might even see costumes of the period on the storekeepers.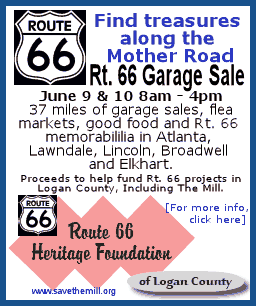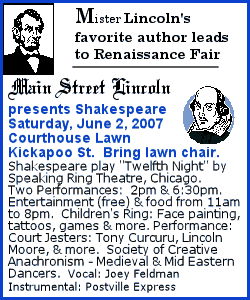 Appropriately, the Renaissance Faire will showcase downtown Lincoln, Abraham Lincoln's first namesake town, which was also christened by him.
Events will begin at 11 a.m. and continue through the day until 8 p.m.
Vocal and musical performances will be featured as well as medieval and Middle Eastern dancing. Audience participation will be sought as a Debke line dance will be taught.
"Twelfth Night" will be presented at 2 p.m. and 6 pm.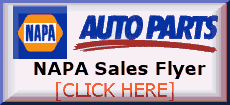 Special recognition will be given to businesses in the downtown area that have been here for 50 years or more. Recognition will also be given to those who sponsor the banners that ask people to "Explore Downtown Lincoln." Individuals and companies who are generously sponsoring the event will be acknowledged. And, "because we are fortune to have both our city and county government in our downtown, recognition will also be given to public officials," Rohlfs said.
For more information, please contact the Main Street Lincoln office at 732-2929.
[Main Street Lincoln news release; LDN]