James Shockney

Send a link to a friend
[September 28, 2007] ATLANTA -- The Rev. James R. Shockney, 96, of Virginia City Highlands, Nev., formerly of Atlanta and Lincoln, died Sept. 15, 2007, in Reno, Nev.
Private burial will be in Covington Gardens Cemetery, Fort Wayne, Ind.
Quiram Peasley Funeral Home is in charge of arrangements.

While he had been involved in ministry his entire life, it was later in life when he became a pastor. While attending seminary he was assistant minister at First Christian Church in Fort Wayne, Ind., and a part-time minister at Maple Grove Christian Church in Berne, Ind. After graduating from Johnson Bible College in 1962, he began his ministry at the East Union Christian Church in East Union, Ind. In 1967 he became the pastor of the Atlanta Christian Church in Atlanta, where he remained until his retirement.

James Ronald Shockney was born Oct. 15, 1910, in Union City, Ind., to Albert and Mary Wilkerson Shockney. He married Helen Duncan on April 5, 1942, in Portland, Ind. She preceded him in death Nov. 4, 2000, in Lincoln.

He is survived by his son, David (and Elizabeth) Shockney of Virginia City Highlands, Nev., granddaughter Kristin Shockney and grandson Matthew Shockney.

In his early years Jim was a professional trumpet player, owned a radio repair shop, a hardware store and at one time a paint store. During World War II he was a member of the Signal Corps.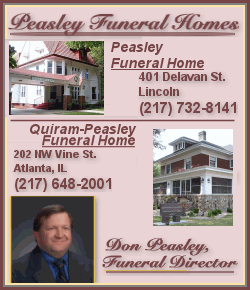 After retirement from the ministry, he and his wife moved to Hemet, Calif., where they lived for 20 years. During their time in Hemet, he was involved in a number of musical groups and was also involved in starting the Community Christian Church.
In 1997 Jim and Helen moved to the Christian Village in Lincoln, and he continued with his music, as a member of both the Atlanta Community Band and the Lincoln Community Band.
For the last several years he lived with his son and daughter-in-law in Virginia City Highlands, Nev.
Click here to send a note of condolence to the Shockney family.