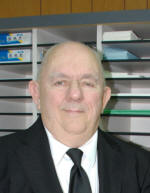 Paul Volle

Send a link to a friend
[October 01, 2007] MOUNT PULASKI -- Paul Henry Volle, 69, of Mount Pulaski died Saturday, Sept. 29, 2007, at 6:56 p.m. at his home.
Visitation will be from 4 to 7 p.m. Tuesday at Fricke-Calvert-Schrader Funeral Home in Mount Pulaski.
His funeral will be at 10:30 a.m. Wednesday at Mount Pulaski First United Methodist Church, with the Rev. Carol Andricks officiating.

Burial will be in Mount Pulaski Cemetery.

Mr. Volle was president of Mount Pulaski Farmerís Bank.

He served in the U.S. Air National Guard of Illinois.

He was born March 27, 1938, in Lincoln to George Adam and Iva Florence Newburn Volle. He married Kathryn L. Montgomery in Mount Pulaski on Nov. 22, 1958.

He is survived by his wife, of Mount Pulaski; one son, Richard Adam (and LeeAnn) Volle of Mount Pulaski; three daughters, Janet Lynn (and Jeff) Broderick of Decatur, Debra Ann Volle of Decatur and Jean Elizabeth (and Kevin) Garner of Springfield; one brother, Dan Volle of Mount Pulaski; 11 grandchildren, Jared, Justin and Jordan Broderick, Adam, Sarah, Rachel, Ellen, Lorah, Ronald and John Volle, and Allorah Garner; two nephews, Darren (and Angie) Montgomery of St. Louis, Mo., and John (and Bonnie) Montgomery of Lincoln; and two nieces, Susan Volle of Inglewood, Colo., and Andrea Montgomery of Glen Carbon.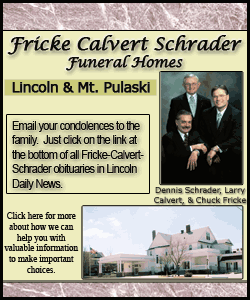 He was preceded in death by his parents and one brother, Frank O. Volle.
He was a member of Mount Pulaski First United Methodist Church, Mount Pulaski Masonic Blue Lodge 87 A.F. & A.M., Commandary and Springfield Shriners.
Memorials may be made to the United Methodist Church, Memorial Home Services (hospice care) or the American Cancer Society.
Click here to send a note of condolence to the Volle family.