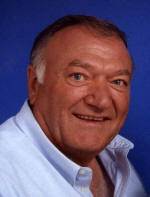 George Hindt

Send a link to a friend

[September 13, 2007] George Arthur Hindt, 69, of Lincoln died Tuesday, Sept. 11, 2007.

Visitation will be from 1 to 3 p.m. Saturday at Mount Pulaski Christian Church, followed by a memorial service at 3 p.m. Jeremy Thomason will officiate.
Prior to the visitation there will be a graveside service at 12:30 p.m. at Mount Pulaski Cemetery.
Fricke-Calvert-Schrader Funeral Home of Mount Pulaski is handling arrangements.
Mr. Hindt farmed until 1970 and then worked for Schwan's Food Service.
He was born Aug. 30, 1938, in Nobles County, Minn., to George and Josephine Hindt. He married Joyce Urke on July 29, 1961.
He is survived by his wife, of Lincoln; three sons, Terry (and Sharon) Hindt of Cedar Rapids, Iowa, Tim (and Jane) Hindt of Springfield and Todd (and Susan) Hindt of Normal; one daughter, Peggy (and Ed) Antoine of Lincoln; three brothers; nine sisters; 10 grandchildren; two great-grandchildren; and close to 200 nieces and nephews.
He was preceded in death by his parents; one brother, Donald; one son, Jeffery; and one daughter, Jennifer.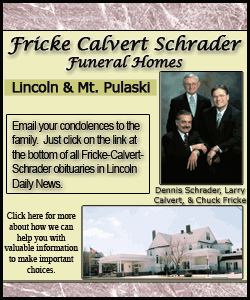 He was a member of Mount Pulaski Christian Church.
He enjoyed camping, fishing and, most of all, spending time with his family and friends.
Memorials may be made to Mount Pulaski Christian Church.
Click here to send a note of condolence to the Hindt family.