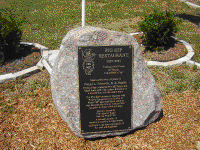 Famed Route 66 Pig Hip Restaurant and Museum marker to be dedicated Sept. 28
Send a link to a friend
[September 20, 2007] BROADWELL -- When the Pig Hip Restaurant Museum caught fire earlier this year and could not be saved, many thought that only the memories would live on in the hearts and minds of visitors. This was not to be. Bob Olson, longtime friend of Pig Hip proprietor Ernie Edwards, took it upon himself to purchase a marker to be placed at the site of the Pig Hip.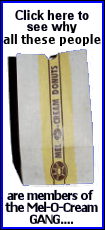 "After the fire in March," says Olson, "we were constantly explaining to people why the Pig Hip wasn't there anymore. We were explaining the same thing over and over again."

The Pig Hip marker, a bronze plaque set in pink Wisconsin granite bearing details of the Pig Hip's history, was set into place on Ernie's 90th birthday, Aug. 5. This marker tells the story of the Pig Hip Restaurant, immortalizing the memories and the history of this Route 66 icon. Olson explains that he knew Ernie wanted to get a historical marker from the state, but the process seemed very difficult and time-consuming. Therefore, he purchased the marker, not only as a way to help his friend Ernie, but also to help immortalize the Pig Hip.

On Sept. 28 at 2:30 p.m. there will be a ceremony to dedicate the Pig Hip marker. This is the same day that the Mother Road Festival begins in Springfield, so just swing by on your way there and attend the dedication. Ernie Edwards is sure to be at the ceremony, so don't miss your chance to hear some of the best stories of the Pig Hip Restaurant and Museum.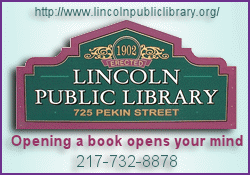 The Pig Hip restaurant originally opened in 1937 as the Harbor Inn, but the name was changed a few years later after a farmer came in and asked for a piece of "pig hip." The restaurant became a Route 66 icon and has had many brushes with fame.
Ernie retired in 1991 and the restaurant closed, but it was later turned into a museum for Route 66 artifacts. In March of 2007, the museum caught fire and couldn't be saved.
Thankfully, this new marker will stand in remembrance of the famed restaurant and will preserve the history for new generations.
For more information on the dedication ceremony, please call 217-732-8687.
[Text from file received from Abraham Lincoln Tourism Bureau of Logan County]