Frank Pope

Send a link to a friend
[July 02, 2008] MOUNT PULASKI -- Frank H. Pope Jr., 88, of Mount Pulaski, died Tuesday, July 1, 2008, at 5 p.m. at Vonderlieth Living Center.
His funeral will be at 10:30 a.m. Saturday at Fricke-Calvert-Schrader Funeral Home in Mount Pulaski, with Bill Shanle and the Rev. Kevin Treptow officiating. Visitation will be one hour prior to the service at the funeral home.

Burial will be in Lake Bank Cemetery, rural Mount Pulaski.

Mr. Pope was a retired lifetime farmer. He was also a master woodworker and skilled furniture maker.

He was born June 21, 1920, in Logan County to Frank and Ella Thear MacRae Pope Sr. He married Lucille Wachter in Latham on Sept. 1, 1946, and she preceded him in death on Dec. 16, 1982. He married Mary E. Gasaway in January 1987.

He is survived by his wife, of Mount Pulaski; one son, Nolan Pope of Madison, Wis.; one stepson, Jack Gasaway of Mount Pulaski; two stepdaughters, Mary Ann Radtke of Mount Pulaski and Jean Davis of Mount Pulaski; his twin brother, John Pope of Mount Pulaski; two grandchildren; and five stepgrandchildren.

He was also preceded in death by one son, Neil Pope, and one sister, Jean Grathwohl.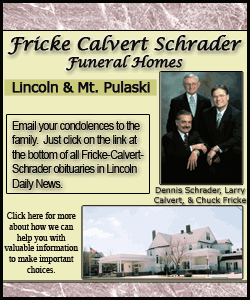 He was a member of the Latham United Methodist Church and was an elder at the former Copeland Christian Church before its closing.
He was a member of the Logan County Farm Bureau for 26 years. He was also a member of Mount Pulaski Masonic Lodge 87 AF & AM and Order of the Eastern Star of Latham 507.
Memorials may be made to the Latham United Methodist Church or to the UMC Youth Work Camp projects.