Jeffrey Goforth

Send a link to a friend
[July 08, 2008] Jeffrey Wayne "Jeff" Goforth, 38, of Lincoln, died Sunday, July 6, 2008, at his home.
Visitation will be from 5 to 7 p.m. Thursday at Holland Barry and Bennett Funeral Home. His funeral will be at 11 a.m. Friday at the funeral home, with the Rev. Jessie Cavness officiating.
Burial will be in New Union Cemetery.

Mr. Goforth was a carpenter and a talented craftsman.

He was born Feb. 25, 1970, in Cape Girardeau, Mo., the son of Donald and Carolyn Richardson Goforth.

Missing him terribly are his mother and father, of Lincoln; his grandpa John Boyd of Lincoln; three sisters, Melinda (and Steve) Grier of Kewanee, Debbie (and Steve) Owens of Lincoln and Cheri (and George) Leverton of Lincoln; his children, Dalton and Sydney Goforth of Naples, Fla., Laci Goforth of McLean, and Justin Goforth of Bloomington; his fiancée, Cindy Shelton, also of Lincoln; several nieces, nephews and cousins; and friends.

He was preceded in death by his grandmother Mazel Boyd and grandparents Edna and George Goforth.

He enjoyed fishing, camping and spending time with his little boy, Justin. He was a fun-loving guy who was always the life of the party. He will be sadly missed by all of his family and his many friends.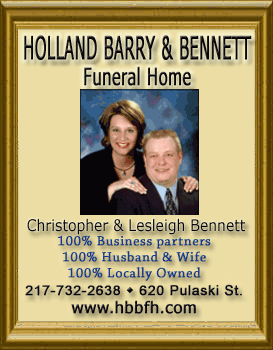 Memorial donations in Jeff's honor may be made to the family and will be accepted at the funeral home.
Click here to send a note of condolence to the Goforth family.