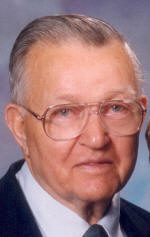 Thomas Hall

Send a link to a friend
[July 14, 2008] Thomas Franklin Hall, 86, of Lincoln, died Friday, July 11, 2008, at 12:45 p.m. at his home.
Visitation will be from 4 to 7 p.m. Tuesday at Fricke-Calvert-Schrader Funeral Home in Lincoln. Moose rites will be at 6:45 p.m.
A memorial service will be at 10:30 a.m. Wednesday at the funeral home, with Napoleon Bonaparte in charge.
After cremation, Mr. Hallís remains will be interred with his wife, Catherine, at Old Union Cemetery. Military rites will be conducted.
Mr. Hall served on the Lincoln Fire Department for 29 years, from 1949-1978, and was assistant fire chief for part of that time. He retired from the city of Lincoln in 1978 and then worked at Logan Correctional Center.
He served in the U.S. Marines from August 1940 to August 1946.
He was born Nov. 6, 1921, in Lincoln to Edward M. and Daisy Russell Hall. He married Catherine "Katie" Sullivan on May 15, 1948, in Peoria. She preceded him in death on March 26, 2004.
He is survived by three daughters, Kathleen "Kathy" (and Sam) Schriber of Lincoln, Margaret Hall of Chicago and Julie (and Ryan) Branson of Lincoln; one sister, Mary Stoutenborough of Tuscola; four grandchildren, Scott (and Teresa) Schriber of Lincoln, Lisa (and Ron) Dotson of Springfield, Derek (and Tracy) Bonaparte of Lombard and Matthew Branson of Lincoln; seven great-grandchildren, Drew Mullins, Nycole and Brady Schriber, Cameron, Kylie and Brooklyn Sparks, and Caleb Glick; two great-great-grandchildren, Dre Mullins and Kamber Tanner; and two great-grand-dogs, Deuce Bonaparte and Stubby Branson
He was also preceded in death by six brothers and sisters, Clifford, Raymond, Helen, Erma, Clara and Donald.
He was a member and past governor of Loyal Order of Moose. He was also a member of American Legion Post 263 and the 2nd Marine Division Association.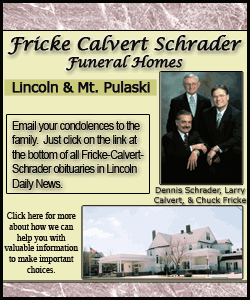 He was assigned to the Pacific Theater during World War II and participated in battles at Guadalcanal, Saipan, Tinian and Tarawa with the 2nd Marine Division. He had the rank of gunnery sergeant, and following the warís end in 1945, he was a drill instructor at Parris Island. He was one of four brothers -- Thomas, Clifford, Raymond and Donald -- who all served in the military during World War II. He was one of the Greatest Generation. After serving his county valiantly in the war, he then served his wife and family for the rest of his life.
He enjoyed hunting, fishing, canoeing, camping, champion tomahawk throwing and was an avid Bears football fan. He enjoyed watching golf, especially Tiger Woods.
He was a lifelong Democrat.
He graduated from Lincoln Community High School in 1940.
Memorials may be made to Memorial Home Services Hospice.