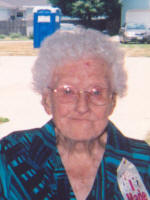 Jessie Burge

Send a link to a friend
[July 24, 2008] ELKHART -- Jessie E. Burge, 101, of Elkhart died Tuesday, July 22, 2008, at 5:30 p.m. at her home.
Her funeral will be at 1:30 p.m. Saturday at Elkhart Christian Church with Robert Twist officiating. Visitation will be one hour prior to the service.
Burial will be in Elkhart Cemetery.

Fricke-Calvert-Schrader Funeral Home is handling arrangements.

Mrs. Burge was a homemaker.

She was born June 16, 1907, at El Paso to William and Louetta Cox Davis. She married Henry Ball in Chicago in 1927, and he preceded her in death. She later married Simon Burge in Lincoln in 1938, and he also preceded her in death.

She is survived by one daughter, Julia Delaney of Elkhart; two sisters, Wilma Miller and Donna Ott; seven grandchildren; two great-grandchildren; and four great-great-grandchildren.

She was also preceded in death by two daughters, Louetta Ball and Joyce Buss; one son, Donald Ball; and three grandsons, Ronald Dalbey, Louis Ruggles and Jeff Ehrich; and one great-grandson, Tyler Matthews.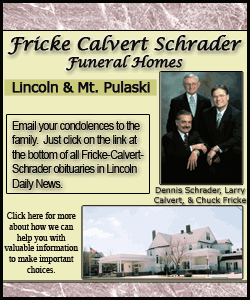 Mrs. Burge was a member of Elkhart Christian Church.
Memorials may be made to the family.
Click here to send a note of condolence to the Burge family.