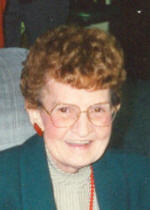 Dorothy Bushell

Send a link to a friend
[June 02, 2008] Dorothy L. Bushell, 87, of Lincoln, died Saturday, May 31, 2008, at 4:26 a.m. at Maple Ridge Care Centre.
Her funeral will be at 10 a.m. Wednesday at Holy Family Church in Lincoln, with the Rev. Jeff Laible officiating. Visitation will be at Fricke-Calvert-Schrader Funeral Home in Lincoln one hour prior to the service.
Burial will be in Holy Cross Cemetery.
Mrs. Bushell was a homemaker.
She was born April 17, 1921, in Mackinaw to Henry C. and Dana Berry Dalbey. She married Claude Hurley in 1937, and he preceded her in death in 1946. She married John "Jack" S. Bushell in 1953, and he preceded her in death in 1983.
She is survived by two sons, Claude (and Margo) Hurley of Elmhurst and Elton (and Teresa) Hurley of New Holland; two daughters, Dana Ott of Sun City, Ariz., and Cheryl (and Paul) Tarr of Springfield; one brother, Duane Dalbey of Wichita, Kan.; three sisters, Jennie Gleason of Lincoln, Louemma Cook of McLean and Mabel Dalbey of Schenectady, N.Y.; 13 grandchildren; and 16 great-grandchildren.
She was also preceded in death by three brothers, three sisters, one son and one great-grandson.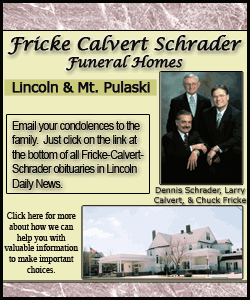 She was a member of Holy Family Church.
Memorials may be made to her church or to Abraham Lincoln Healthcare Foundation.
Click here to send a note of condolence to the Bushell family.