Don Baker
Send a link to a friend
[June 23, 2008] MOUNT PULASKI -- Don Eldon Baker, 83, of Mount Pulaski, died Friday, June 20, 2008, at 7:10 p.m. at Memorial Medical Center in Springfield.
Visitation will be from 4 to 7 p.m. Monday at the First Christian Church of Mount Pulaski. His funeral will be at 10 a.m. Tuesday at the church, with Jeremy Thomason and Bill Shanle officiating.
Burial will be in Mount Pulaski Cemetery.
Fricke-Calvert-Schrader Funeral Home is in charge of arrangements.
Mr. Baker was a lifelong farmer in the area.
He was born Feb. 6, 1925, at Buffalo, Mo., to Walter and Oma Cowan Baker. He married Margaret Ruth Martin in Lincoln on May 11, 1946.
He is survived by his wife, of Mount Pulaski; three sons, Ronn (and Joann) Baker of Streator, Larry (and Pam) Baker of Mount Pulaski and special son Kevin Baker of Dwight; two daughters, Debra Pollock of Lincoln and Candy (and Gary) Foss of Camp Point; three sisters, Freda McGee of Mount Pulaski, Joyce Scroggin of Mount Pulaski and Rosanna Irving of Springfield; eight grandchildren, Seth, Audra, Bethany, Julie, David, Clint, Ian and Ashley; and nine great-grandchildren, Trenton, Dawson, Cade, Owen, Lydia, Julian, Brock, Wyatt and Vincent.
He was preceded in death by one daughter, Mary Eileen Baker, and two brothers, Bertrum and James Baker.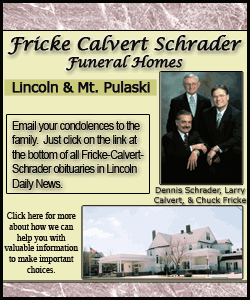 For many years, he was totally dedicated and involved in all phases of the Mount Pulaski Christian Church. He was also a member of the Mount Pulaski Historical Society, a volunteer at Mount Pulaski Courthouse and a member of Logan County Farm Bureau.
In lieu of flowers, the family has requested that memorials be made to the building fund at Mount Pulaski Christian Church.
Click here to send a note of condolence to the Baker family.