The Lincoln College Office of Alumni Relations is hosting a Lincoln College Day at Busch Stadium in St. Louis on Sunday, July 6. The game will match the Cardinals against the Cubs.

Lincoln College alumni, family, and friends are invited to attend as the rivalry of the north (Cubs) versus the south (Cardinals) continues. The cost is $135 per person and includes a game ticket with access to a private party room with indoor and outdoor seating, a buffet meal and door prizes. Limited seats are still available for round trip transportation leaving from Lincoln College at 10:00 a.m. on July 6 for an additional cost of $25.

Ticket availability is limited so make your reservation now. For those with tickets, the gates will open at 12:15 p.m. and guests are asked to enter at gate six near the Broadway Street entrance. Ticket holders will take the elevators to the second level where they will enjoy a Fielder's Choice Buffet. The game starts at 2:15 p.m. To reserve your tickets or for more information contact the Lincoln College Alumni office at (217) 732-3155 ext. 217 or call toll free at 877-522-5867 or visit www.lincolncollege.edu/alumni to download the reservation form. Additional questions can be e-mailed to Mary Jo Werth at: mjwerth@lincolncollege.edu.
---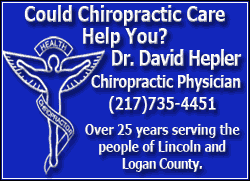 Another good deed by another great organization
The Lincoln Jaycees, a group of hardworking young people in this community has given a check for $250 to the Christian Child Care. Christian Child Care Director Coleen Moore said she met her husband Eric through the Jaycees and two other couples in the Lincoln chapter did the same. We aren't surprised. Good people meeting other good people is always a hit or in this case a marriage.
---

Speaking of good deeds
Congratulations to Community Action Partnership and the Kiwanis Club of Lincoln. Their week long sponsorship of a summer day camp was a huge success. The Kiwanis Club donated $500 to the camp which was administered by the Community Action Partnership. A pictorial of the campers visiting our 911 center will be in Saturday's edition.
---

Let your voice be heard

Speaking of Community Action Partnership, you still have a few days left to fill out their transportation questionnaire. The purpose of this survey is to help improve our community's public transportation system by finding out what our transportation needs are. Even if you don't need transportation at this moment, please consider what your future needs might be if you were unable to drive for any reason.

So often we say that no one asks for our opinion or input in a matter. Well here's your chance to say what you think about the future of transportation in our area. But don't delay any longer. The feedback from the community is requested by no later then July 3rd. you can find the questionnaire at

www.capcil.org.
---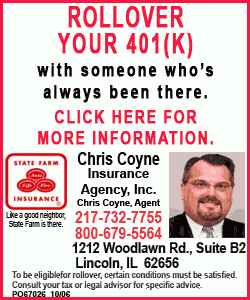 Holy Family makes six individuals feel good about contributing.
The Holy Family Catholic Church has announced their June "Lucky Six" winners. Individuals who purchase these $30 raffle tickets are eligible for the monthly drawing when six lucky people get their names pulled. I will bet that's why they call it the "Lucky Six" drawing. There are only 2200 tickets in total available so the chance of winning beats that other raffle run by the state. To make it even better, winner's names are thrown back in the pot and they could win again in an upcoming month. The proceeds from the raffle are used to promote Christian education at Holy Family Parish and Carroll Catholic School. Tickets can be purchased at many locations and you can call 732 4019 for more information.
This month's winners were: $1,000: Chase Collins, $500: Shirlie Wolpert, $300: Bob Neil, $100: Donald Berg, $100: Rachel Grunder, $100: Nancy Saul, $100.
---

No dirty dogs in this town.
The Humane Society of Logan County is having a dog wash this Saturday. The location is at the AutoZone parking lot at 1206 Woodlawn Road from 10:00 a.m. till 2:00 p.m. It is donations only with nail trimming available for a fee. Even if your pooch is clean, it might enjoy getting a cooling wash as the dog days of summer are here. All proceeds from the wash go to fund the society's goals.
Got a good piece of news, information or something that we can all brag about? If you do, e-mail Mike and let us tell everyone about it. Plus you can win cash. Every submission, whether we use it or not, will get your name in the "Close Up" grab bag. At the end of the month we will draw a name and someone will get $25.00 just for dropping us an e-mail. If you wish, we will be happy to donate your winnings to the organization of your choice.
You can contact Mike at mikefak@lincolndailynews.com.
[By MIKE FAK]