Lincoln Christian College and Seminary Associate Professor Will Speak at University of South Carolina Conference

Send a link to a friend
[March 29, 2008] Dr. Njeri Mbugua, a Lincoln Christian College associate professor, will address a conference this weekend in Spartanburg, S.C. The University of South Carolina Upstate will host the one-day conference focusing on society and children. The theme is "Children in Crisis: Local and Global Challenges."
Mbugua will host a session on "HIV, AIDS and Children: A Global Perspective." She joins other speakers such as Dr. James Stallworth, medical director of the South Carolina Institute of Childhood Obesity and Related Disorders, and Dr. Mariajose Romero of the Columbia University National Center for Children in Poverty.
Mbugua is associate professor of social science at Lincoln Christian College and Seminary and is affiliated with the Department of Sociology at the University of Nairobi, Kenya. Mbugua joined the Lincoln Christian College faculty in 2006.
[Text from file received from Lincoln Christian College and Seminary]
---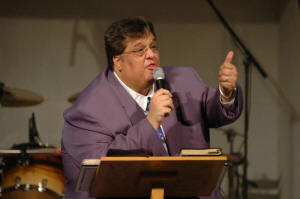 Lincoln Church of God to Host Revival Services With Big Mo

Send a link to a friend
[March 29, 2008] The Lincoln Church of God, 1415 Fourth St., will have revival services with "Big Mo" on April 4 and 5 at 7 p.m. and April 6 at 10:45 a.m. The community is invited to attend the services.
Milton Ostrander, known to most as Big Mo, has written hundreds of songs that have been recorded by some of the most popular gospel artists of our time. Many of his songs have topped the charts, even reaching the coveted No. 1 position in the national Top 40.
Big Mo has been nominated as favorite male vocalist for the Dove Awards and has sung on most every major concert stage in America, including the gospel portion of the Grand Ole Opry. Many say he sings "with so much feeling, that he actually paints a picture with his voice."
Mo is often invited to preach to crowds both great and small. His powerful preaching style is very popular with those he ministers to.
[Text from file received from Jacob Skelton]
---
Father/Daughter Royal Purity Ball

Send a link to a friend
[March 29, 2008] CLINTON -- The Father/Daughter Royal Purity Ball at Little Galilee Christian Assembly Activity Center is planned for May 17, from 7 to 10 p.m. The event is for girls of all ages and their father (or father-figures). The elegant evening is designed to encourage daughters to practice purity of heart, mind and body, and to encourage fathers in their role of authority and protection of their daughters.
The evening will include valet parking, dancing, refreshments, commemorative photos and special mementos for each daughter.
For more information and to register, call Laura Keller at 217-935-5358.
[Text from file received from Laura Keller]
---
On Earth...:
---
Send your church announcements and articles to ldneditor@lincolndailynews.com.