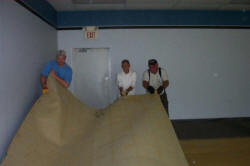 Left to right, Kaleb, Kevin and Doug Shumard pull up old carpeting as they work to ready store.
The store with a total of 8,000 square feet, with 5,400 of that being retail floor space, will be the largest Sears dealer store in Illinois when it opens, according to Shumard.
Even with a hard dayís work already in, Shumard still has that infectious enthusiasm that made him a successful businessman in town when he owned the quick oil change business now called Four Corners Lube. It was the hiatus away from retail that caused Shumard to dive into this undertaking. "I missed the people. I missed my friends and this community," Doug explained.
The store will have a strong presence of Kenmore appliances and Craftsman tools, but there will be a great deal more for shoppers to buy locally when the business opens, including an array of flat-panel televisions.
It isnít lost on Shumard that his name will now be associated with Sears in Logan County. "Sears is a great name. They have been in business for years and years, and their reputation is known by everyone. This is a great opportunity," Doug stated.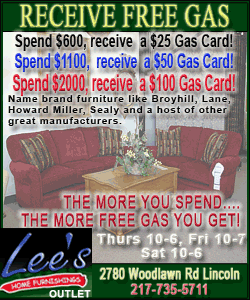 He wanted it known that he feels his store will not hurt other local retailers. "I believe a million dollars is spent by local people shopping at Sears stores in other communities. A lot of people use a Sears credit card, and in fact 78 percent of Sears sales go through their credit department. I believe we will be able to keep that business local."
Shumard is confident that the new store will be received well by the community. "We will offer great service, and that is always the key," he said.
Although an exact date has not been set, Shumard is hoping to open early in July; thus, loyal Sears shoppers wonít have to wait too long to buy right here in Lincoln.
[By MIKE FAK]